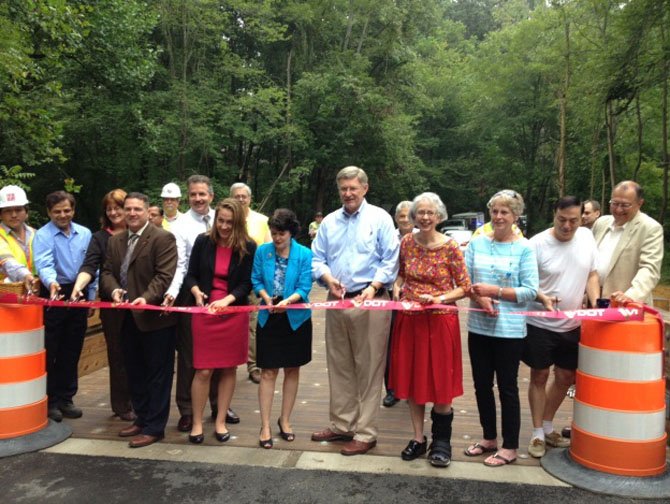 Virginia Department of Transportation (VDOT) staff, Great Falls residents, elected officials, Fairfax County Department of Transportation staff and others celebrated the opening of the newly completed Beach Mill Road Bridge over Nichols Branch with a ribbon-cutting ceremony on Aug. 29. The bridge's one-lane, rustic design and slip resistant wood decking and railing was a collaborative effort between VDOT, Dranesville Supervisor John Foust, the Great Falls Citizens Association, the neighboring community and others. The bridge opened to traffic on Aug. 28.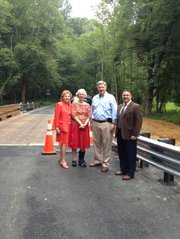 VDOT Northern Virginia District Bridge Engineer Nick Rop oversaw the project. The VDOT project manager was Arif Rahman. They worked with VDOT Area Construction Engineer Chan Basnayake and Construction Manager Dinesh Singh. The bridge contractor was Martins Construction Corp and the bridge designer was Athavale Lystad and Associates.
"This is a beautiful bridge. … The process of getting here should serve as an example of how to build a bridge."

Supervisor John Foust (D-Dranesville)
CONSTRUCTION OF THE BRIDGE was anything but routine. What was to be a standard bridge replacement project was interrupted by the floods of September 2011, which destroyed the original bridge six months earlier than its planned demolition. In the interim, before construction of the new bridge began, VDOT installed a temporary structure consisting of two cement box culverts. Construction delays from the scheduled April 2012 start date threatened to extend the full bridge closure period from July 2012 until December 2012, well into the school year. To prevent the long school bus rides and traffic disruptions that would have resulted from a six-mile detour, Supervisor Foust worked with VDOT officials to move construction to coincide with the summer months of 2013. New engineering construction efficiencies and contractor incentives ultimately shortened the bridge closure time to a few spring weekends and the three months of 2013 when school was out of session.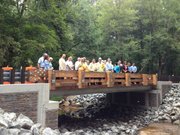 Candice Burt and Lynne Simmons, who live near the bridge, were effective advocates for the chosen one-lane, rustic design. They approached VDOT and the office of Supervisor Foust to request that the single-lane configuration of the original bridge be retained in order to slow down and discourage cut-through traffic along Beach Mill Road. VDOT worked extensively with Burt, Simmons, the office of
Supervisor Foust and others in the community, including holding a public meeting in June 2011 to present proposed design alternatives to the Great Falls community.
THE SINGLE LANE BRIDGE with rustic design was ultimately endorsed by both the Great Falls Citizens Association and the Fairfax County Board of Supervisors.
"This is a beautiful bridge," said Supervisor Foust. "The process of getting here should serve as an example of how to build a bridge. The project presented some challenges, including preserving this beautiful rural setting and helping to tame speeding and cut-through traffic on Beach Mill Road. I especially want to thank Nick Roper, VDOT's Northern Virginia District bridge engineer, for his excellent work and for his ability to work through adversity and fulfill the vision the community had for the bridge. I also want to thank bridge neighbors Candice Burt and Lynne Simmons, who worked tirelessly, insisting on getting a bridge that the community could support."