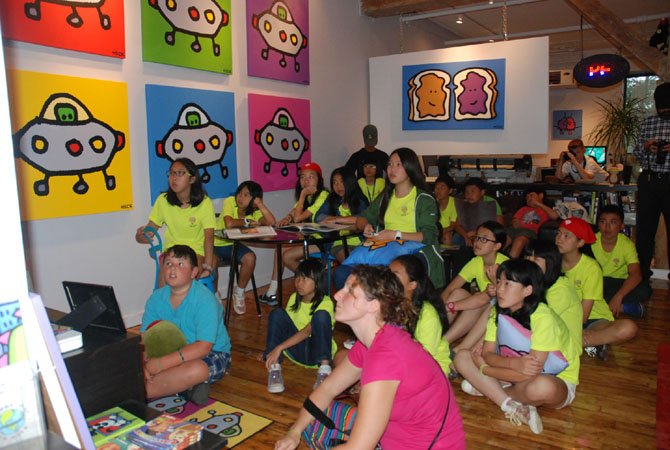 YMM Art Space is a children's art education company that started eight years ago in Shenzhen, China, by Yang Hongmei, with the mission to provide children with the highest quality art programs and to stimulate children's innate creativity through art education. Mrs. Yang started out as a private art teacher offering lessons from her home and eventually expanding her vision, YMM Art Space, into a global arts education center with locations in Hong-Kong, Shenzhen, Shanghai, and Beijing, China as well as Toronto, Canada. Currently, there are over 30,000 students enrolled in YMM Art Space globally, and their age ranges from 2-18 years old.
This year, YMM Art Space opened a new location in Vienna and hopes to bring Mrs. Yang's brand of high quality art programs to the art enthusiastic children in the Washington, D.C. metropolitan area.
Every summer YMM Art Space offers opportunities for their students to take part in a variety of international art and cultural exchange activities. Students from YMM Art Space in China participated in summer programs in the U.S., Canada, Germany, France and Japan. Mrs. Yang hopes the Washington, D.C. students can also go to summer exchange programs with other international centers, particularly in China so that children can embrace different cultures and advance their appreciation of art not only in their own country but also in different countries.
In addition to increasing cultural awareness, YMM Art Space often invites artists to hold lectures and exhibitions that are free to the community so that local people can engage with artists face to face in an effort to enhance the presence of art in the community. And besides community outreach, a running theme in YMM Art Space is to support environment protection and conservation by using recyclable materials in a creative and active way, such as hosting the "Green Earth, Beautiful U.S." Children's Environmental Color Bottle Exhibition from Sept. 14-21, 2013 where the Vienna location offered free art classes everyday to children ages 5-18 to paint on recyclable bottles.