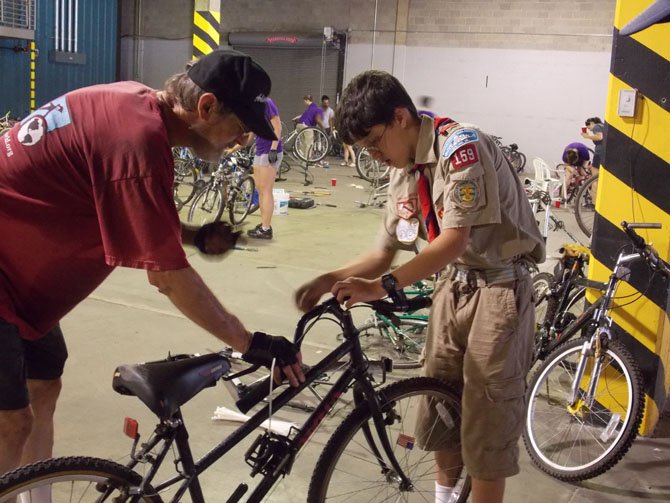 Did you just buy a new bike and find someone to adopt your old bike which is not in a perfect condition? Do you have a child's bike at home that's not fit for your son or daughter? Do you have a bike with missing parts? Put your old bike to good use by donating it to Bikes for the World.
On Sept. 28, Boy Scout Troop 159 will have a bike drive for Bikes for the World at St. Timothy's Episcopal Church in Herndon from 10 a.m. to 2 p.m. All types of bikes are accepted children's and adults, mountain, BMX, hybrid, road bikes, recumbents, unicycles, etc. The only things not accepted are kids tricycles and anything with a huge amount of rust eating into the frame or a rusted frozen gear wheel. The bikes do not have to be in perfect condition, just repairable. They can be missing some parts and we also take parts and accessories like tires and helmets. Bikes for the World asks for a suggested donation of $10 per bike to help offset the cost of shipping (it costs about $25 to ship one bike). Both the bike and the cash (or check) donation are tax deductible and donors will receive a receipt. They also accept sewing machines (with the same suggested donation).

The bikes are refurbished and provided to people who need reliable transportation to school, work or health care. In addition, some people receive training in bike repair, providing them with a valuable skill and an opportunity to find gainful employment. Many people have old bikes that are no longer being used. They may be languishing in their garages or basements. Instead of collecting dust or ending up in a landfill, these bikes could literally change someone's life in places such as the Philippines, Ghana, or Panama. A child could be able to stay in school and a disabled adult can get a good job.
This is the Eagle Scout service project of Conor Mears with Troop 159. Residents in Herndon, Reston or nearby areas can bring their bikes to St. Timothy's Episcopal Church at 432 Van Buren St., Herndon on Sept. 28. Troop 159 will be there from 10 a.m. to 2 p.m. to help out the donation processing. If you have questions or are unable to donate on that day, contact Conor Mears by e-mail: porygon56@gmail.com or visit http://bikesfortheworld.org.