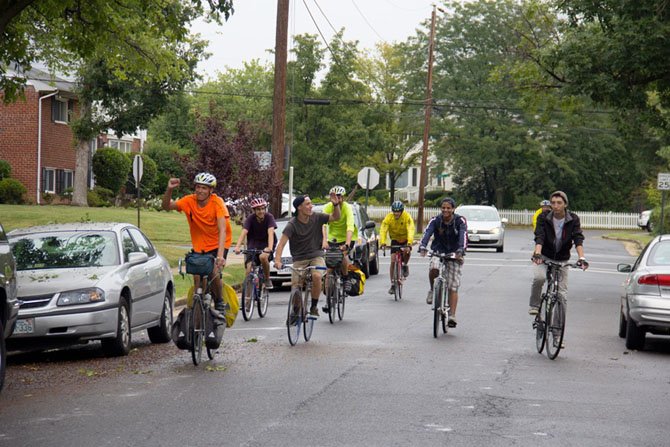 Alexandria — As summer drew to a close, two Alexandria residents reflected on their eight-week bicycle ride across the country. From June 23 to Aug. 18, Alex Wolz, a 2013 T.C. Williams High School graduate, and his father, Chris Wolz, flew to San Francisco, and cycled all the way back to Alexandria for the non-profit organization, Wheels to Africa.
Wheels to Africa is a non-profit organization that works with youths to collect bikes for communities in Africa. The T.C. Williams bike club has been working with the organization since Alex started the club in his junior year. This summer, he and his father raised $1,337 for the charity.
Before Alex Wolz started his first year at the University of Virginia, he said he wanted to spend his summer pedaling through different parts and different communities of the continental U.S.
"I have a deep love for adventure, so why not combine the two?" Alex Wolz said. "I wanted to expand my horizons, see beyond Northern Virginia and get in touch with rural America."
Given that the Wolz duo only had eight weeks to complete the journey before school started and before the real world required Chris Wolz back in the D.C. Metropolitan area, Alex Wolz said they chose the most direct route from the west coast back to the Commonwealth.
"Choosing the route was pretty easy," Chris Wolz said. "I selected the most direct route across country that was mapped out as a bicycle route, which turned out to be the Western Express route (San Francisco to Pueblo, Colo.) and then onto the Transamerica East Route (Pueblo to the east coast).
Chris Wolz explained that all the routes he considered were mapped out and established by the Adventure Cycling Association.
"Alex did the planning, and I joined him," Chris Wolz said. "We followed a bike system mapped by Adventure Cycling — so we didn't have to plan things town by town."
Planning for the trip took more than selecting a route on a map, though. Alex Wolz said he began planning logistics for the trip in January with a friend, and in the months leading up to departure, realized he would have to find a different partner.
"I conjured this trip in my mind about a year ago, and only really started planning to do the trip about five months before June," Alex Wolz said." I was going to do the trip with a friend, but he could not join me for various reasons. This occurred around May, so I had given up at that point on doing the trip."
This was when his mother, Eugenie Ballering, said she and her husband saw an opportunity for a father-and-son trip.
"Alex had this dream, to bike across the United States when he graduated," Ballering, said. "That was what he wanted to do. Then his senior year, he was looking for his buddies in the bike club, but in the end they couldn't do it for a variety of reasons. Then my husband's eye started twinkling, and he thought, maybe I can do it with you."
Chris Wolz said any trepidation he had about biking thousands of miles was trumped by his excitement at spending a summer tackling a challenge with his son.
"We have always done a lot of biking together, and we were really excited to do this trip," Chris Wolz said. "When he didn't have any other friends to join him, I was a little intimidated by the length of the trip, but I was still excited."
Perhaps the greatest challenge was wrapping their minds around a distance that many people will never even drive in a summer. The key, though, was taking each one of those 3,700 miles at a time.
"The greatest challenge was in thinking about the immense journey ahead," Alex Wolz said. "The amount of hours in the saddle, the amount of pedal strokes we would have to do was unfathomable at the beginning of the trip. But what kept me sane was enjoying the small details of the trip; the big-eared hares in Nevada, the wonderful parks in Utah. And taking it day by day made the goal much more attainable."
Chris Wolz said he absolutely had nerves about the challenge each region had to offer, but that luckily nothing at all stopped them in their tracks — neither land obstacles nor injury. He explained that one of the most nerve-wracking parts of the trip was a run in with feisty dogs as they neared the east coast.
"I was probably most nervous about how we'd get over the mountains in the West, in California and Colorado," Chris Wolz said. "I think Alex was most worried about the dogs in Kentucky. There were mean dogs that chased us down windy roads. These nasty dogs come after you, and look like they are going to bite you. None of them did, fortunately."
The Wolz pair did meet up with other bikers at different points, but they were the only ones they encountered that were fundraising for Wheels to Africa. Still, Chris Wolz said he enjoyed getting to know other bikers.
"We met up with quite a few bikers," he said. "Almost every day we would see people in both directions. It was always interesting to stop hear stories and share tips."
Chris Wolz said that he relished the eight-week bonding experience he had with his son.
"One of the great things about the trip is that we had a lot of fun together," Chris Wolz said. "There were a lot of laughs and a lot of interesting discussions over the eight weeks."
He added that he is grateful to Forum One Communications, his company, for their enthusiasm, encouragement and support of the trip.
Aside from spending quality time with his father, Alex Wolz said both the terrain and the people of different states surprised him. Though the Wolzes had a two-person tent and a transportable stove that kept them self-sufficient, multiple people in different towns invited them into their churches, fire departments and even their own homes for food and a chance to sit.
"Kentucky turned out to be one of my favorite states, not what I was expecting," Alex Wolz said. "The people of Kentucky were incredibly kind and generous; numerous times we were offered food and a place to sleep and asked for nothing in return. I was also surprised by the immensity of this country. If you want to see for yourself, drive — or bike — through Nevada and Kansas. We have lots of land that has lots of potential."