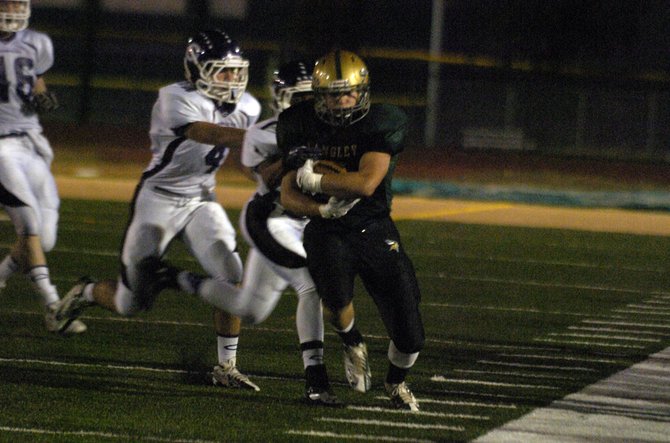 One week after the Langley football team lost five fumbles during a loss to T.C. Williams, Saxons running back Tyler West made sure to keep two hands on the ball during Friday's contest against Chantilly.
Even when West was running in the open field, the junior often stressed ball security with a two-handed protective grip that head coach John Howerton would later deem excessive.
"A little bit of an over-stress job," Howerton said after the game.
While West might have been overly cautious in his approach, the Langley running back's protective method didn't prevent him from being productive.
West carried 22 times for 259 yards and two touchdowns as the Saxons overcame a seven-point halftime deficit to beat previously undefeated Chantilly 42-21 at Langley High School. The Saxons outscored the Chargers 28-0 in the second half to improve their record to 2-2.
"After the halftime talks, everyone got more motivated," West said, "and we just started hitting the holes harder and [the offensive line started] making bigger holes."
What was the deal with the cautious approach?
"I was just trying," West said, "to keep it steady as much as I could."
Friday's performance was a bounce-back effort for West, who had fumbling problems during the Saxons' 13-7 loss to T.C. Williams.
"Nobody wants to fumble or make mistakes," Howerton said. "He didn't have his best day last week. The pouring-down rain probably didn't help things and it just kind of snowballed on us. … He's very talented. He's still young and he's still trying to figure out the offense. … He's got to get his confidence up each week. The talent is there."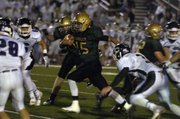 Langley quarterback Nick Casso also had a big night on the ground, carrying 19 times for 155 yards and four touchdowns. Much of Casso's success came from keeping the ball on the read-option.
"It's hours [of work] and hundreds of times of just reps in practice," Casso said of the Saxons' success running the read-option. "… If you do it to muscle memory, that's what practice is for right there and you've got it down."
Casso also completed 5 of 15 passes for 74 yards. Wide receiver Garrett Collier had three catches for 33 yards.
Langley scored on two of its first three drives and led 14-0 late in the first quarter. After losing a fumble on their first possession, the Saxon offense responded with a nine-play, 90-yard scoring drive that ended with a 19-yard touchdown run by West.
Langley started its third possession at the Chantilly 29 thanks to a 44-yard punt return by Collier. Three plays later, Casso scored from 2 yards to give the Saxons a two-touchdown advantage.
Chantilly, which entered the game averaging 48 points per contest, came to life in the second quarter, when the Chargers outscored the Saxons 21-0. Running back David Kerns scored on runs of 8, 15 and 3 yards to give the Chargers a 21-14 halftime lead.
"It's going to be one of the bigger wins Langley's had. This team is very capable. We have some good players."

--- Langley head coach John Howerton
While the teams traded blows in the first half, Langley dominated the remainder of the contest. Chantilly drove inside the Langley 10 on the opening possession of the second half, but Saxons defensive back Scott Rosener snagged an interception to end the threat. Three plays later, West scored on a 47-yard run to tie the score at 21-all.
Chantilly's next possession ended when Langley defensive lineman Alex Kolencik took the ball away from a Charger and raced 30 yards down to the 10. Three plays later, Casso scored from 2 yards, giving the Saxons a 28-21 lead they would not relinquish.
Casso also scored on runs of 33 and 4 yards in the fourth quarter.
What did the Saxons' performance on the ground say about the team's offensive line?
"It says that we can run over people," Casso said. "We can control the line of scrimmage. When you've got those big guys in the middle and then support on the outside at tackle, we're good to go."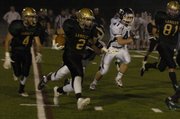 Kolencik (6-1, 235) is the Langley center. Brooks Norris (6-4, 295) and Bennett Molster (6-2, 270) are the guards, and Ben Culmer (6-5, 275) and Connor Halm (6-6, 260) are the tackles.
Rosener finished with two interceptions.
Chantilly running back Kerns carried 16 times for 40 yards. Mark Aanstoos had five carries for 60 yards.
Quarterback David Sydnor completed 17 of 35 passes for 253 yards and three interceptions. Raeshawn Smith caught six passes for 78 yards, Eric Tram had six receptions for 86 yards and tight end Javin Re had five receptions for 89 yards.
Chantilly's record dropped to 3-1. The Chargers had scored at least 41 points in victories against Lee (61-22), Madison (41-17) and South County (42-34) prior to Friday's game.
"It's going to be one of the bigger wins Langley's had," Howerton said. "This team is very capable. We have some good players. We've got a couple linemen that other teams don't have, we've got a very good quarterback and a running back [and] we've got … one of the best wideouts around."
Langley will travel to face Marshall at 7:30 p.m. on Friday, Oct. 4. Chantilly will host Centreville.