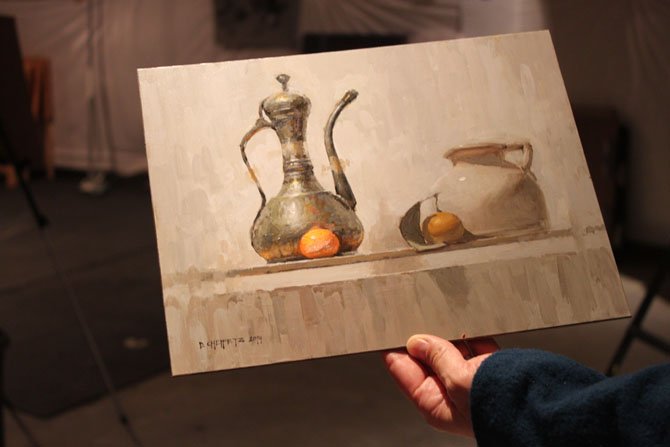 1008 Tyler Street looks like an unassuming brick house from the front.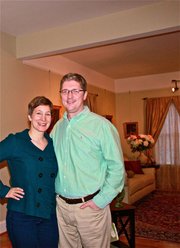 Open the door, however, and art is everywhere. Paintings, photographs, etchings cover the walls of the three-story home.
The home, with seven bedrooms and accompanying bathrooms, has served as a nighttime retreat for artists and scholars visiting Herndon and areas nearby.
"We have hosted so many artists and friends over the years that we were amazed to find this great new house with seven gorgeous bedrooms, six bathrooms and all of its high-quality historic details right in the downtown area," said Trish Ratliff. "The unfinished basement has become my huge art studio which gives me freedom, because I have so much worry-free space to work on multiple projects at the same time."
The couple plans to move to another location in Herndon. They are hosting an open gallery and home showing from 7 to 10 p.m. April 25 at their house, 1008 Tyler Street.
Trish has been an artist since she was young. Her husband, Associated Press editor and Emmy-winning documentary producer Walter Ratliff, nurtured her creative side, she said.
"I've continued to draw, paint and sell paintings since I was young, but after the birth of our first child when Walter pointed out that oil paintings are a legacy to future generations, my art career took on new life," she said. "Since then I've taken my work more seriously and my paintings have sold in galleries in Santa Fe, Alexandria, New York City and other major markets."
For the both of them, creating a home that could both serve as a studio for Trish and have enough bedrooms to entertain other artists was a dream. After the home, modeled after a historic house in Alexandria, was built in 2006, the couple moved in with their 6-month son. Eight years later, the home is a sanctuary for four after another son is added to the family.
The artists that have visited over the years, like David Cheifitz, Ned Meuller and Vicki Blum, appreciated the couple's hospitality so much that they added their artwork to the home's gallery. Trish's own work mingles with paintings and photographs from her artist friends. Billowing, blooming clouds fill one son's room. A country path hangs over the fireplace. And flowers, flowers everywhere.
"We love having guests, and we love making those guests feel extremely comfortable," Walter said in an email. "This house makes this possible like no other we have seen. Among our guests have been many fellow artists and scholars that come through the area. Being able to comfortably host them at our home (vs. a hotel) made for a richer experience for everyone."
Each of the three guest rooms has a bathroom, and two of them are master suites.
Since the home was built, Walter said in an email, upgrades have included an updated interior paint on the main level walls and adding canister lighting to Trish's studio in the basement
"One of our favorite upgrades was the natural gas standby generator, he said. "It is instant-on, and hooked up to our house's gas main. That means, if there is a power outage we have no worries, even if we are travelling."
Trish said showing the home, which the couple is now selling, always takes a long time because there are so many unique qualities about it.
"I had trouble showing the home, because the realtors would spend all their time looking at the art," she said.
She reminisced about the days the home would host Gertrude Stein-like artist gatherings. These gatherings eventually grew so large that they were moved to a larger location.
"Everyone started coming," she said. "The artistic underground of inspiration outgrew this house. This house has a really special history."
For more information on Trish's artwork, visit http://www.triciaratliff.com/.