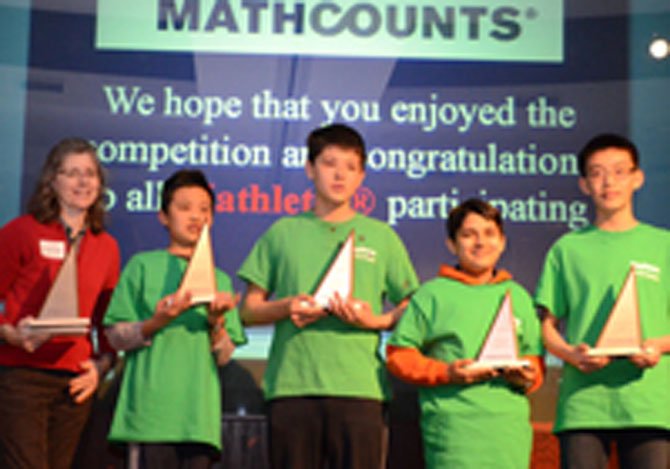 Longfellow Middle's Mathcounts Team successfully defended its title as Virginia's Mathcounts Champion during competition that took place recently in Richmond. The team of Franklyn Wang, William Sun, Scott Becker, and Aaditya Singh make up the Longfellow Mathcounts team, which is coached by Mary Jo Clark. Wang was the top individual finisher and earned top honors in the Countdown Round. Finishing second in the individual standings was William Sun; Scott Becker finished in sixth place. Wang and Becker will compete for Virginia at the national competition in Orlando in May. Longfellow math teachers Vern Williams, Barbara Burnett, and Jay Gorgia serve as assistant coaches for the team.
Longfellow Middle eighth grade student Eric Lin recently won the Ylda Novik Memorial Concerto Competition, senior division. Lin played the entire Prokofiev Piano Concerto No.3. He will perform with the Capital City Symphony at the Atlas Performing Arts Center in Washington, D.C., during the symphony's next season. Pianists from the metropolitan Washington, D.C., area performed in the competition.

The Longfellow Middle debate team of Noah Daniel, Teddy Daniel, and Ayush Pamecha earned an invitation to represent the DC Urban Debate League (DCUDL) at the National Championship Tournament of the Middle School Public Debate Program on April 26 in Claremont, Calif. Pamecha and the Daniel brothers have not lost a round during any of the four debate tournaments during the 2013-14 school year, even when they were asked to lead teams of students new to debate. Coaches are Matt McElroy and Bruce Wilson. At the recent qualifying tournament, they outdebated competitors in all four rounds and were awarded the number one team (out of 69) at the DCUDL's February tournament.