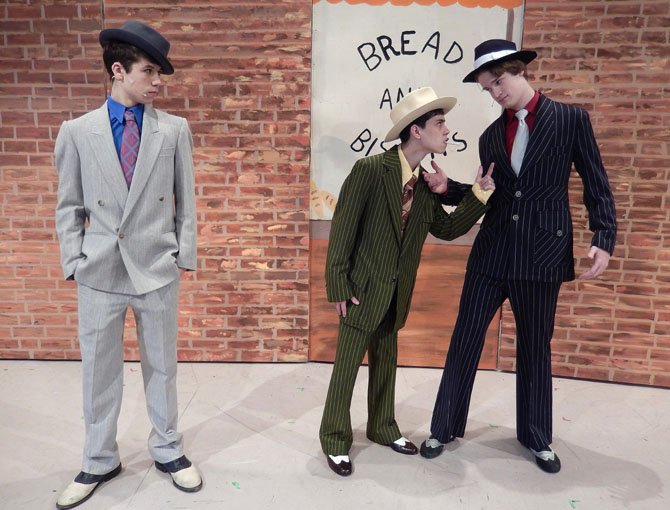 Featuring a cast and crew of 90, Paul VI High presents one of Broadway's most popular musicals ever, "Guys and Dolls."
The school's Cappies show will burst upon the stage Friday-Saturday, April 11-12, at 7 p.m., and Sunday, April 13, at 2 p.m. Tickets are $13, adults; $8, students and senior citizens, at www.PaulVI.net, and $15 and $10, respectively, at the door.
"The actors are creative and enthusiastic, and they really wanted to do 'Guys and Dolls,'" said Director Katherine Miller. "They knew the songs were terrific, and this show has lots of roles for boys – and I've got lots of male actors this year. I've also got tremendous singers, comic actors and physical actors, all dedicated to this show."
THE STORY mainly takes place in early 1950s New York and is about a group of gamblers and the women who love them. And while some mission workers are trying to convert the gamblers, one of them – Nathan Detroit – bets that fellow gambler Sky Masterson can't get Sarah the mission leader to go with him to Havana.
"The costumes are colorful and stylized," said Miller. "The men wear pinstriped suits or 'zoot suits' with big shoulders and fedora hats, and the women wear bright, flashy dresses and hats. For the mission workers, a parent got us authentic, Salvation Army uniforms and bonnets from 50 years ago."
There's also a 12-piece pit band comprised of students and professional musicians. "It's a witty, fast-paced show, with catchy songs and snappy dialogue," said Miller. "The audience will love the color, energy and exuberance of the whole cast."
Sophomore Abby Rozmajzl plays Adelaide, a dancer at the Hot Box club. "She and Nathan have been engaged 14 years and she wants to get married already," said Rozmajzl. "She's ditzy, carefree and tends to overlook things, but she's also down-to-earth."
Rozmajzl called Adelaide "a blast to play. Her high voice and nasally, New York accent are difficult. But I love belting her songs and making awesome notes everyone will remember." Her favorite song is "Sue Me," when Adelaide confronts Nathan about her feelings and finally unleashes her bottled-up emotions. And she said the audience will like the "fantastic costumes – our dresses are so elaborate and sparkly. God bless Flo Arnold, our costume lady."
Portraying Nathan Detroit is senior Spencer Loessberg. "He runs the 'oldest, established, permanent, floating crap game' in New York," said Loessberg. "That's also the name of my favorite song because everyone's singing about my character, and it goes to his head. Nathan's always worrying about finding a new place for the game every night, since gambling's been outlawed in New York.
"He's ambitious and the other crap shooters look up to him," continued Loessberg. "He always wins and has lots of money. But he almost never bets; he just takes his cut off the top. But Adelaide doesn't know about it, or they'd be over."
Loessberg said the audience will especially like the dance numbers by the gamblers because "high-school theater is usually more girls dancing, but this show has an equal number of male and female dancers."
Senior Jacob Rozmajzl, Abby's brother, plays Sky Masterson. "He's suave and perfect in every way," said Rozmajzl. "He bets the highest on everything and always wins and gets the girls. He's charming, but self-absorbed. He knows how to manipulate people and get what he wants, but everyone loves him."
Rozmajzl enjoys acting charming and "like everything around you is yours. But I'm giving him more depth. This role was my number-one choice and I'm so happy I got it." He especially likes his song, "Luck, Be a Lady," because "it's upbeat, crazy and masculine. Sky's about to risk $50,000 and all the gamblers are backing him up."
He said the audience will like the "fantastic singers, including Abby, and tenor J.J. Cummings singing 'Sit Down, You're Rocking the Boat.' And they'll love characters that, in real life, they wouldn't root for."
Junior Joey Arzeno plays mob boss Big Jule. "He's portrayed as a scary guy everybody's afraid of, but he's like a Chihuahua that thinks it's a pit bull," said Arzeno. "It's fantastic; I get to push people around and have an air of superiority."
His favorite song is "Sit Down, You're Rocking the Boat" because the mobsters, gamblers and sinners are all together singing and dancing. And he said the audience will enjoy "seeing the gamblers in the sewer because they couldn't find another place to play, plus the relationships between the characters."
PLAYING SARAH, head of the Save a Soul Mission, is freshman Caleigh Davis. "She's trying to recruit sinners to the good side," said Davis. "She's determined and wants to help people. She's also a bit naïve and out of her element in New York. I'm excited about this role; Sarah's a leader, but compassionate, and it's fun envisioning myself as someone like that."
Davis likes the number, "Marry the Man," which she and Abby sing. "Sarah's in love with Sky, and they're scheming to marry their boyfriends and change them into working men," said Davis. "The audience will love the show's romance and will see how much fun everyone's having onstage. And the songs and story are great."