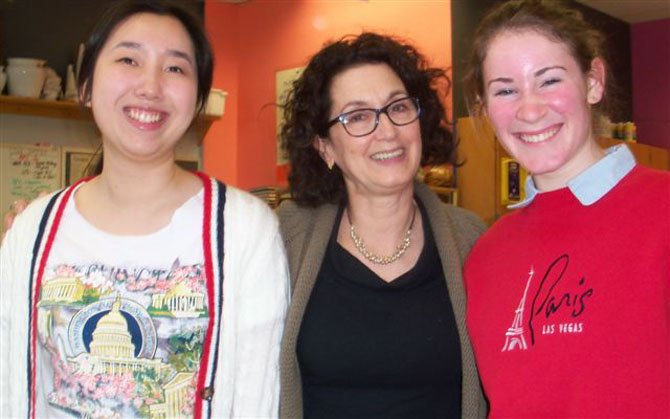 Arlington — March 2014 will be remembered by many for its late winter storms. In Arlington, that memory will be overshadowed by the successes of local high school students at the highest rungs in the National Scholastics Art Competition.
Generally, students (and their parents) are aware that many distinguished colleges and universities offer scholarships to those awarded National Gold and American Vision medals. Such assistance tops $8 million dollars annually. A number of Arlington students are now in position to take advantage of such assistance.
Too often, another person who shares the pride of a student's accomplishment is overlooked, namely, the art teacher. Arlington's student winners cannot help but benefit when their teachers have 10 — sometimes more than 20 — years in the classroom, as well as the experience of past students becoming national medalists.
Teachers were asked what personal characteristics they see in successful art students, including this year's awardees.
Faylinda Kodis of HB Woodlawn responded with: "A person who is never satisfied but always 'pushes on' a bit more."
Jina Yi Davidson of Wakefield mentioned "independence."
For Hiromi Isobe at Washington-Lee: "Not being afraid to make a mistake" and "persistence" are key markers of successful students.
Yorktown's Jeff Pabatoy and Denise Phalan highlighted "curiosity" and "being a great problem solver."
Interviews with several of the national honors students reveal a common reaction at the moment results were announced: "Surprise." Maura Shapiro added "humbling," once she thought of competitors she knew. Yuru Jiang admitted to "excitement," but said it was delayed because she really did not understand the importance of the national honor. Murphy Wilt's reaction was to wonder if any of his friends also had won, since each had been supportive of the others while waiting for the judging outcomes; he greatly appreciated it when several sought him out with congratulations.
Henry Love's reaction was "irritation." Of course, he was pleased when told of his medal. Annoyance was caused by a "broken server" preventing him from direct notification. A friend accessed the website first, so Love's notification came second-hand.
This year's competition had an interesting, but mostly unnoticed, feature. According to Allison Gilbert of the Arts Education Office, "American Vision" nominees are considered "best in show" among the regional Gold Key recipients. Yiru Jiang of HB Woodlawn is noteworthy for reasons apart from any medal award at the national level. Her category is the "American Vision" while her hometown is Wenzhou, People's Republic of China. By email, teacher Kodis says that Yiru has been in this country for only two years and plans to attend college here, perhaps the Ringling College of Art and Design in Sarasota, Fla. Kodis also observes that the particular award "to a new immigrant is great encapsulation of the American Dream and all that brings new immigrants to our county."
High School Medalists
AMERICAN VISION: Yiru Jiang, HB Woodlawn, painting.
GOLD: Elise Degarmo, Yorktown, painting; Henry Love, Yorktown, ceramics; Maura Shapiro, HB Woodlawn, drawing; and Emma Troy, Washington-Lee, drawing.
SILVER: Murphy Wilt, Wakefield, photography; Victoria Golovaha-Hicks, Yorktown, painting; Ian Hardman, Yorktown, photography; Coline Macorol, Yorktown, photography; Santiago Mallan, HB Woodlawn, drawing; Cal Ries, Yorktown, ceramics; Natalia Rodas-Calderon, Washington-Lee, painting; Julian Thomassie, Yorktown, ceramics (two silver medals), and Camille Wetmore, Yorktown, ceramics.
More like this story