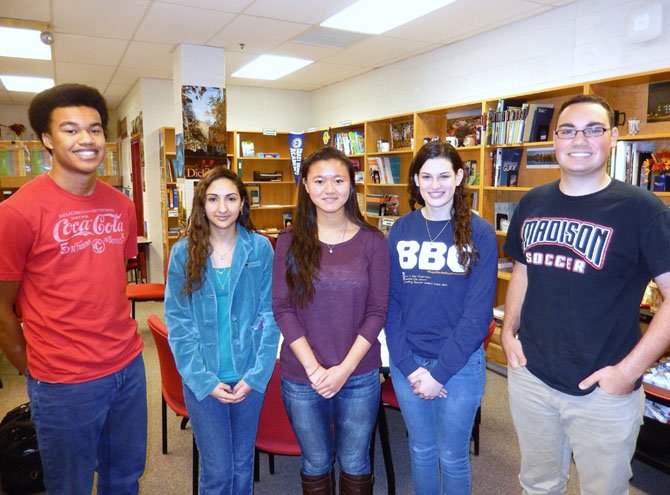 Exploring Career Options
Medicine, business, computer security – 16 Madison High students learned about these careers and more during a recent, job-shadow program. Sponsored by FCPS and the Tysons Regional Chamber of Commerce, it enabled the students to experience various occupations firsthand.
The teens listed their top three career interests and the Chamber matched them with businesses. Afterward, they shared their experiences with The Connection.
Junior Ben Jackson shadowed Dr. Alan Dappen of DocTalker Family Medicine in Vienna. Hoping to someday be a doctor, medicine was Jackson's first choice. "I took notes during patient visits in his office and did heart-rate checks after he did them," said Jackson. "We also went to an assisted-living home and he checked some patients."
Later, he and Dappen discussed the health-care field. "I definitely loved it," said Jackson. "It was a great experience. The doctor was personable; he let me see how he keeps records and what kinds of questions he asks his patients. And he told me how he builds relationships with them.
"I liked seeing how he interacts with people," continued Jackson. "By how he listens to them and asks questions, he finds out what's wrong with them. I learned that it's important to be an avid listener because a patient might say something offhand that was really about their problem. Job-shadowing was neat because, in school, we focus more on college. But this let you see what you'd be doing professionally."
A junior, Merna Yakoub shadowed a woman who started a small business last year with her husband; it matches companies with contracts. "She said it's better to start with a large company first so you learn all the fields within it," said Yakoub. "Large companies train you and give you experience with different things."
While Yakoub shadowed her, the woman had a phone conference with five people to help Navy families obtain dental insurance. "The contract was worth over $2 billion," said Yakoub. "I liked seeing how she interacted with people; she began by asking about their own families.
"I learned – even if you don't win a contract – you still give it your best try," continued Yakoub. "And you gain experience so you'll know what to do next time. I'd recommend this program because you get to see how a particular job actually feels, learn what they do, and see if it's fun and how much work they do. Then you can decide if you want to do it. I want to be a surgeon, but would do business management if it didn't work out."
Senior Liz Thielen shadowed a financial advisor from Edward Jones Co. "He explained what he does daily and I asked him why he went into that field, the salary, time commitment, what he majored in and the challenges and perks to his job," she said. "He talks to lots of clients and, at first, he had to find them by knocking on doors because he works independently. So whatever effort he puts into it, that's how much he gets out of it."
Thielen said the advisor explained how important it is to keep in touch with his clients every few months regarding any financial changes they've made, since he's responsible for part of their money. She also watched while he spoke with a potential client and accompanied him to a business meeting where he tried to get client referrals.
"I learned it's important to be able to juggle your job responsibilities while growing the business," said Thielen. "I'm interested in being an accountant or actuary. I'd recommend job shadowing because it gives you insight into the business world that students don't normally see and you learn how to act professionally."
Senior Matt Boyle, interested in network administration and computer security, shadowed Jeff Adler, owner of TechClarity of Tysons Corner. It's an outsourced IT department that provides computer security and a help desk for small businesses.
"He has a couple employees who mainly go to other businesses to help them with their computer problems," said Boyle. "They can also provide help remotely through their applications or over the phone, depending on the problem."
Boyle visited two clients with Adler. "One needed something installed so she could work from home. They also needed to transition people in her office from Windows XP to Windows 7. Another company wanted to upgrade its old servers, learn about firewalls and set up its network in a different part of their building."
Calling the experience "fantastic," Boyle liked "how I could apply what I learned in my computer classes to the real world. I didn't know there were so many tools available for IT support, and I liked the idea of an outsourced IT department – especially for small businesses."
He said job shadowing gave him "real-world experience" in this field "because the workplace is often more advanced than what we learn in class. So it's nice to see what people are doing now, compared to what we read in a textbook."
Senior Rachel Blacker, interested in Web-page development, visit CoGo Interactive, an Internet marketing company that creates small businesses' Web presence. It also uses social media to market to clients, and Blacker shadowed the co-owner, Peg McDermott.
"She explained her business model, how and why she started the company, and how to see if people's resources are used correctly to gain clients," said Blacker. "She meets with customers and potential clients and has a small, remote staff of project managers, graphic designers or Web-page developers."
McDermott told Blacker where she finds the best employees and what experience and degrees she prefers. And Blacker helped her find colleges with students in the fields she needed for interns. They also discussed Web and interactive marketing. "I want to be an IT project manager/consultant," said Blacker. "But it was interesting to see how her business was created, how to retain clients and different ways to use technologies in business."
However, Blacker wanted some hands-on experience. "I'd recommend job-shadowing; but instead of just talking to you, the employer should let you do something," she said. "But I like the Chamber of Commerce giving students an opportunity they may not otherwise get. The Chamber has so many businesses it can call on, it's a good pairing between them and the schools."