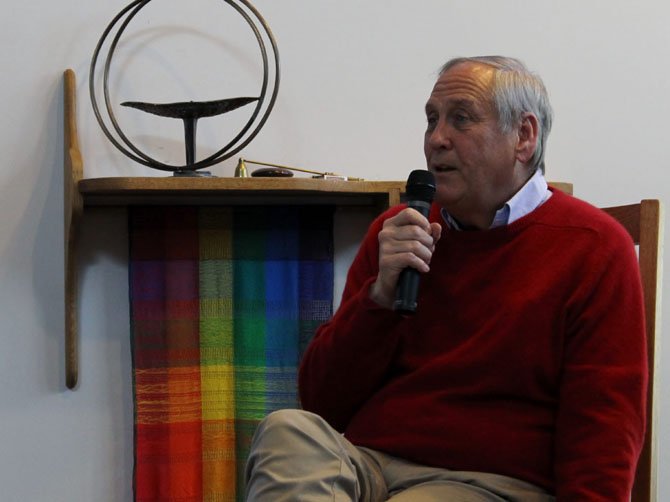 There is a racial disparity in the number of people incarcerated in the United States. Nearly one in ten black men in their thirties is in jail. This number has increased due to the war on drugs, which has also seen a racial disparity in the numbers of those convicted.
"Black men have the highest likelihood of incarceration-one in three are likely to serve a prison sentence at some point in their lives," said Nazgol Ghandnoosh of The Sentencing Project. "For drug convictions, the racial disparities are even higher, and this is even though there is research showing that people of different ethnic backgrounds use drugs at the same rate."
Ghandnoosh joined other leaders in the community at a discussion on this topic at "The Effects of Mass Incarceration: A Public Forum on Criminal Justice Sentencing Reform" hosted by Accotink Unitarian Universalist Church in Burke.
PENALTIES FOR CRACK, the crystallized form of the cocaine, which comes in powder form, are harsh compared to those for cocaine. Although the drugs are pharmaceutically the same, a person possessing 28 grams of crack faces a mandatory five year sentence, while 500 grams of cocaine are required for this mandatory sentence.
Panelists also included State Sen. Dave Marsden (D-37) who prior to getting involved in politics worked in the juvenile justice system.
The prison population has grown exponentially in Virginia, Marsden said at the forum. Virginia has over 60,000 people in its prisons and jails and spends about $1 billion a year to house these prisoners.
Marsden said there are 22 people in Virginia who committed a crime when they were juveniles in which no one died, but will spend the rest of their lives in jail with life without parole. This includes Travion Blount, who at age 15 robbed a party with two adults at gunpoint. No shots were fired and he didn't hurt anybody.
The adults were given plea bargains of ten and 13 years, but Blount is facing the rest of his life in prison.
"Travion decided to go in and let the judge make the call instead of making a deal with the prosecutors, and got 146 years," Marsden said.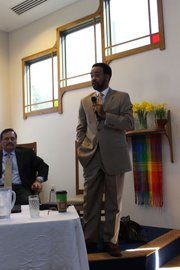 Marsden introduced a bill that after 20 years of a life sentence would allow these juveniles to receive another chance at a sentence from a four-judge panel, but it failed to pass the House of Delegates.
Locking those who commit crimes in jail and throwing away the key is not always the best option, Fairfax County Deputy Executive David Rohrer said at the public forum.
Rohrer, who spent 32 years in the Fairfax County Police Department, acknowledged the importance of police enforcement as well as human services.
"I do not believe in only enforcement. It's about education, prevention and intervention strategies," Rohrer said. "Everything we do should be systems-based."
Rohrer said that the focus should be on more than just reforming the prison system, but also tackling the root problems. A good example of this, he said, is the creation of jobs and Fairfax County's new housing first initiative.
"It's not just about changing prisons or systems. It's how we invest in people," he said.
Lt. Shawn Martin of the Mount Vernon Police Department said that Fairfax County police are participating in a pilot program launched in collaboration with the juvenile justice system, public schools, neighborhood community services, and Northern Virginia Mediation Service.
The program will focus on restorative justice, and will prevent juveniles from being convicted of crimes. Both the victim and the perpetrator, who must admit to the crime and recognize wrongdoing, are brought together by mediators to discuss the problem and find a solution. The program is being tested at the Mount Vernon sub-station.
"I'm optimistic that we're going to launch it for the entire county," Martin said.
Derwin Overton, the executive director of OAR, acknowledged at the forum that it can be difficult for offenders to return to society. This is especially true when it comes to employment, which is one area in which OAR assists former prisoners.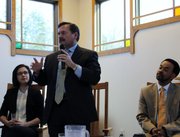 EVEN IN FAIRFAX COUNTY, there is disproportionality when it comes to mass incarceration.
The Fairfax County population is approximately 12 percent Hispanic and 9 percent African American. According to Overton, 37 percent of the clients receiving services from OAR are African American, 33 percent are Caucasian, and 29 percent are Hispanic.
"That alone lets you know there is disproportionality as far as individuals getting incarcerated in the community," Overton said.
Rohrer said Fairfax County is looking at the disproportionality with it comes to incarceration.
As for the racial disproportionality in prisons, Ghandnoosh said the problem is a socio-economic one, as those in less prosperous communities turn to other ways to receive income.
"Violent crime is not something we turn to in more affluent communities. In less prosperous communities, these are the ways of solving and addressing some of life's problems," Ghandnoosh said.