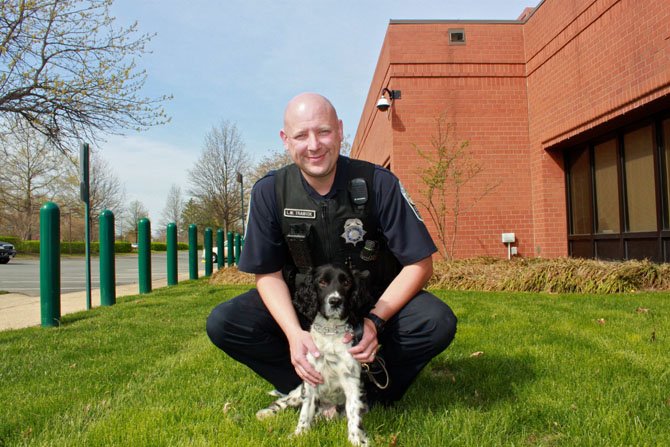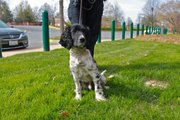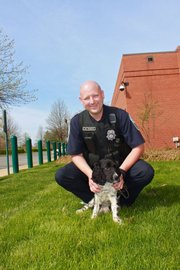 "He's sociable. He is trained to be calm around loud noises and different people petting him."
-- Officer Lee Trawick
Herndon Police Department's newest officer is charismatic, ambitious and, well, a little furry.
Jude, the department's new explosive-detecting English Springer Spaniel, is a lovable pup who will be used to snuff out bomb threats in the town and beyond.
The town acquired him in February after he received six weeks of training. His partner-in-law, HPD Officer Lee Trawick, was chosen to be his handler and had to receive six more weeks of training together. Both will have some type of training each month.
"My training was to learn how to read him and handle him," said Officer Trawick.
Chief of Police Maggie DeBoard said there were many good candidates to handle the dog.
"We were looking at overall experience, maturity. Someone who will work the shifts we need them to work. Someone who has a flexible schedule who can come out on the weekends during high-volume events."
She said that Officer Trawick only had a few years of experience in Herndon but also served as a police officer in Georgia for nine years.
Jude will be on location before high-volume town events take place, nose to the blacktop. He will also be used if a neighboring city or even Washington Dulles National Airport needs to know if a suspicious package could potentially a bomb.
He has been taught to detect numerous materials used in bombs, like black powder and water gel, by odor. Other dogs, like German Shepherds, tend to scratch the item or the ground. Jude simply sits, waiting for his handler to deal with the situation.
Herndon received the black and white 2-year-old dog with a federal grant through Northern Virginia Emergency Response System. Manassas Park, Town of Leesburg and Virginia State Troopers also received bomb-sniffing dogs through the grant.
Trawick said Springer Spaniels are frequently used as bomb-sniffing dogs in England.
While the town uses German Shepherds as patrol dogs, Springer Spaniels are typically friendlier. Jude loves belly rubs and getting scratched behind his floppy ears.
"It's been a little different having a dog like Jude," said Chief DeBoard. "I oversaw a bomb unit for a while, and I was used to having a Labrador. He's a smaller dog and not the traditional fit, but you can see he has that drive and ambition."
She said that explosive-detecting dogs are tools for the department to use, and can sometimes have good or bad days. She said they are not 100 percent accurate.
When Jude is off-duty, he is home playing with Officer Trawick's Westland Highland White Terrier.
"He's not aggressive," he said. "He's sociable. He is trained to be calm around loud noises and different people petting him. Every dog has a different personality, just like every individual."
More like this story