Sunny weather brought community members out to Thomas Jefferson Middle School to kick off the recycling portion of their spring cleaning. The parking lot off Glebe Road had been turned into an efficient slalom course of stations for dropping off of everything from televisions and vacuum cleaners to batteries and motor oil at the semi-annual E-CARE recycling event on Saturday, April 19.
Brian Potter, MXI Environmental Services project manager, detailed how his OSHA-trained staff received the recyclable items from residents and began the process where latex paint will become land fill cover, flammable liquids and fuels will become cement, and the more toxic items will be incinerated before being appropriately sealed and sent to the MXI facility at Abington, Va.
More personal items were also brought in to participating private charities such as Bikes For the World. This non-profit organization repairs gently used bicycles and donates them for use in underdeveloped countries around the world. Eyeglasses and furniture were also accepted for donation to the needy.
An Arlington resident was dropping off small electronics and said he has participated in the event previously. "The flyers from the city came in our recycling bins and let you know exactly what can be donated and recycled."
According to Emmanuel Nocon, the county's Household Hazardous Materials coordinator, there has been an increase in the number of electronics and paints collected in recent years. Nocon emphasized the availability of the event in the central area of Arlington's neighborhoods. Where most people in single family homes tend to use the South Arlington recycling facility that is open year round, this event is specifically located in the center of Arlington to facilitate access for Arlington citizens in apartments to participate as fully as possible.
The next event will be during the fall. Advertisements will be sent around again, and anyone can check the county's website for more details. See http://recycling.arlingtonva.us/residential/trash-recycling/
Photo Gallery
Recycling in Arlington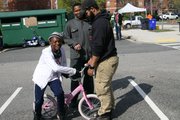 Click Photo for Flash