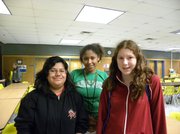 Student athletes from George Mason University discussed their experience facing challenges in school and sports to students in the Summer Extending Learning Time (SELT) Program at Robinson Secondary School cafeteria in Fairfax on July 31.
Juniors Brice Colcombe (Soccer), Taylor Washington (soccer), Julian Royal (basketball), Jalen Jenkins (basketball), along with seniors Anthony Williams (track and field), Stephi Matsushima (volleyball), and Corey Edwards (basketball) shared their struggles in middle school and high school and the skills and techniques they used to overcome them.
Colcombe compared getting bad grades and behavior problems to doors that have closed, and when all doors are closing, only one way becomes available. "Don't let this happen," he said. He urged the audience to work hard and make good decisions to keep all opportunities open.
Williams told the middle schoolers that being the best at something they love to do can yield rewards, "If you're good at something, even if it's not at sport, even if it's academics, you can get a scholarship" and get a free education, he said.
But nothing is a given, said basketball player Royal. "Being able to have your education paid for is not something that just comes by and is given away for free," he said. "Everyone on this stage worked hard to get those scholarships."
SCHOLARSHIPS are really competitive and getting straight As improves the chances of obtaining them, said Williams.
For volleyball player Matsushima, who found math challenging in middle and high schools, her math teachers helped her get high marks in math, despite her difficulty with it. "Even if you're struggling or there's something you don't like, you can still be successful in it," she said. She also advised the audience to remain well-rounded and be involved with many activities, as it is something recruiters value.
Washington, who plays left back, divulged his struggle with dyslexia, diagnosed during his freshman year of college. He also recounted nearly failing sixth grade, despite trying his best. With hard work, he slowly started succeeding. "It didn't happen overnight," he said.
His daily schedule accommodates his disability. He wakes up at 6 a.m. most mornings so he can have the extra time to study, while still being able to attend class and soccer practice.
"You shouldn't let anyone look down on you because you're smaller than them or you can't do what they do."

— Corey Edwards, GMU basketball player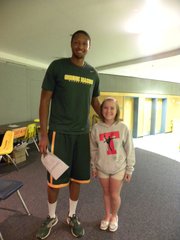 Unlike his basketball teammates, Jenkins and Royal, who are 6'8" and 6'9", Edwards is below 6' tall. "You shouldn't let anyone look down on you because you're smaller than them or you can't do what they do," said Edwards.
Because of his height disadvantage, he has to be faster and more aggressive in court than everybody else. "You should always strive for what you want. Don't give up. Always try your best," he said.
Rising Robinson Secondary School eighth grader Natalie Hirakawa learned that early efforts bring rewards later. "If you try a lot harder, you don't have to tray as hard later," she said.
THE GMU ATHLETES gave seventh grader Madison Riggs something to look forward to. To get somewhere in life, "you have to work hard in school," she said. She recently completed sixth grade at Bonnie Brae Elementary School.
For Cinthia Leonzo, she will use the advice she learned from the GMU athletes when she tackles eighth grade math classes at Robinson Secondary School this year. She said she will "try to focus, work harder."
Bailey Blake, a rising Robinson Secondary School eighth grader, learned that hard work and believing in one's self are necessary to succeed in life.
Robinson Secondary School's SELT Program ran from July 14 - Aug. 1 and focused on literacy and numeracy. One hundred and sixty-five rising seventh and eight graders participated in the program upon the recommendation of their elementary and middle school reading and math teachers.
SELT Program prepares students for the upcoming school year and ensures that the students' foundation in the chosen instructional focus is strong, said Ashley Faaborg, Robinson's SELT Program director.