Photo Gallery
Back Porch Thrift Store Opens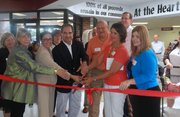 Click Photo for Flash
United Community Ministries celebrated the opening of its newly designed and relocated Back Porch Thrift Store with a ribbon-cutting celebration on Friday, July 25. The newly designed and expanded retail space is at the Sacramento Shopping Center on Richmond Highway at 8794 Sacramento Drive. The store officially opened its doors to the public on Saturday, July 26.
The new location features a more spacious, improved store layout, with ample parking and convenient donation drop-off behind the store. A storewide grand opening sale continues through Aug. 15.
The opening celebration was hosted by The Friends of UCM, a volunteer membership organization that builds community spirit through fundraising and public awareness activities.
The Back Porch Thrift Store represents the beginning of UCM, which is celebrating its 45th year of service to the community. In the early 1960s, church members began bringing winter clothing to Mount Vernon Presbyterian Church for donation to members of the Gum Springs community. When UCM was incorporated in 1969, the agency took over the collection and distribution of not only clothing but household items as well. During the 1980s, the store was housed in what is now the main office for UCM on Fordson Road. The store moved in 1992 to the Crossroads Shopping Center in Hybla Valley. The move to the new location on Richmond Highway starts a new chapter.
Every year, UCM provides an average $30,000 in vouchers to clients who are struggling to make ends meet. In addition to affordable shopping, the store provides a place for people to train and learn new skills.
The Back Porch Thrift Store address is 8794-D Sacramento Drive, Alexandria. Donation hours are Monday to Saturday from 10 a.m. – 5 p.m., See www.backporchthrift.org.
The store is open for shopping Monday - Saturday 10 a.m. - 6:30 p.m., and Sunday noon - 6:30 p.m. Scheduled pickup for large donations is available via the online form at the store website.
The store has launched a new "Back Porch Thrift Store" Facebook page for supporters and shoppers at: www.facebook.com/BackPorchThrift.