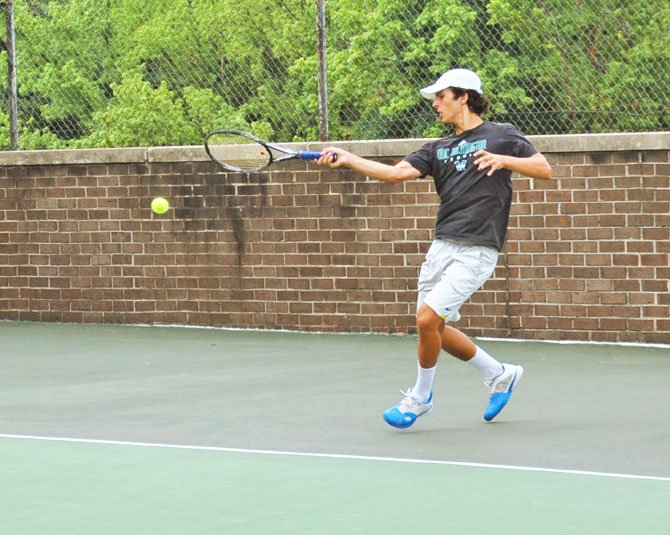 As the U.S. Open approaches, several local tennis students are competing in their own United States Tennis Association (USTA) local competitions. There are several levels of tournaments to choose from as well as age groups whether they're entry-level, intermediate, or advanced.
"Central to tennis is competition. They learn to win and how to lose," according to Coach Wayne Bryan. If Bryan's name sounds familiar, not only is he a world-class coach, but also father to the most successful professional men's doubles teams in tennis history, the Bryan brothers Bob and Mike. "I'm a huge believer in the tennis experience," said Bryan who advocates as much exposure to tennis as possible. "It's a way of life. The more you immerse yourself in the way of life, the better."
"It's a way of life. The more you immerse yourself in the way of life, the better."

— Wayne Bryan, father to the double team of Mike and Bob Bryan, a tennis coach and published author
The cornerstone of Bryan's coaching philosophy is "Making it fun." Bryan emphasizes a positive and enthusiastic approach to the game and has written about the importance of the coach's and parents' roles in motivating and inspiring their tennis kids. You may have seen his fun approach to tennis on display if you attended the CitiOpen in Washington, D.C. just a few weeks ago. Bryan was the MC for the tennis matches and worked the crowds attending the event, including prize giveaways and trivia.
USTA COMPETITIONS are organized by levels, starting with L8 and go up to L1's for the most competitive tournaments. Players are ranked by regions. The Washington, D.C. region is included in the MidAtlantic region, which encompasses Maryland, Virginia, West Virginia, as well as Washington, D.C. The USTA/Mid-Atlantic Section is one of 17 sections of the USTA. The USTA/Mid-Atlantic's daily operations are carried out by a professional staff based in Reston.
"It's a game of chess on a big field. It takes self-discipline and the mind. You call your own shots. It builds strength-of-character," says Bonnie Vona, the manager of competitive tennis for the Mid-Atlantic. Vona believes that the competitive experience develops long-term benefits for tennis youth, regardless of the level they compete at. "With tennis, you can play until 95. When we say sport for life, it truly is. They become enamored with it when they're young and it's still a benefit to them [as they get older]."
Like the four grand slams in tennis, there are several local, state-wide, and national junior tournaments taking place all over the country on various surfaces. Most are on hard court, but there are several on clay and even a few that utilize a grass surface like at Wimbledon. According to Vona, "It depends on where you are in the country. In the North there's clay. I would say it's about 70 percent hard court and 30 percent clay."
Chidimma Okpara, Natasha Subhash, and Reilly Tran are all 12-year-old competitors from the Four Seasons Tennis Club in Fairfax. All three compete in both clay and hard court tournaments throughout the nation.
"The Williams sisters inspired me," said Okpara. She also has a 6-year-old sister who plays and started at age 4, two years younger than her older sister. Talking about her sister, "she says she wants to be like Serena and says 'I'm going to beat you.'" Her brother also practiced tennis but has now switched to basketball. Her sister wants to go pro and play doubles with Okpara. On the men's side, her idols include both Roger Federer and Raphael Nadal. "Federer because he's really calm and he's really optimistic and he's like the king of champions. Nadal because he fights. On the women's side it would be Sharapova and Azarenka."
Tran is also a fan of Nadal's since she plays left-handed as well. "I like Nadal because he's a lefty. I also play with two hands on each side." This helps her pack a lot of force into her shots, providing her with more power than her compact frame might otherwise allow. Tran feels that the extra force she gets overcomes the lack of reach that might result with such an approach. Like her peers at the tennis center, she practices about four hours a day during the school week, more in the summer. Okpara, Tran, and Subhash all leave school early so they can get in enough practice after school and miss about 15 school days a year due to tournament schedules.
"Parental involvement is usually crucial as a child needs to be supported to achieve the highest levels of their abilities. It takes time to get them to practice, to tournaments. It also takes a substantial financial outlay as well," says Bob Pass, the 4Star Tennis Academy coach for all three girls.
Natasha Subhash's dad loves sports and instilled this love for the game in her. Subhash started playing tennis at 4Star at age 4 and entered her first tournament by age 6. The only child in the family, she explained, "my dad, he introduced me to tennis. He loves to play." Along with her doubles partner, Malkia Menguene, she captured the silver ball in 14s (playing in an older group than her age) at the National Clay Court Championships in Plantation, Fla. just this past July.
IT TAKES A LOT to make a competitive tennis player and there are several facilities in the Northern Virginia area that are making the grade for the MidAtlantic section of the USTA. In addition to 4Star, the Jack Schore Tennis program operates out of the Regency Sport and Health in McLean. Both facilities include well-maintained clay courts to ensure that those attending their programs are exposed to different surfaces if they want to compete on the circuit.
Schore emphasized the importance of having the chance to practice on clay as well as hard court. "Due to the slower surface, on clay you generally have to set up points better. Again the points are longer which means more emphasis on conditioning. There is also specialized footwork. There can be a greater emphasis on the serve and first strike tennis on a hard court," he explained in an email.
Photo Gallery
Playing to Win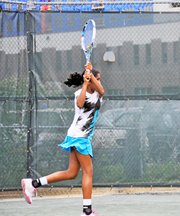 Click Photo for Flash
There are several competitions that take place throughout the year at various levels. "We had 18 students play in the National Clay Courts and will have 16 in the National Hard Courts. We have over a hundred students who play USTA tournaments at the Sectional level. About 45 play National events but not the National Championship events," said Bob Pass in an email.
As Tran, Subhash, and Okpara explained, their weekend practices are taken up mostly with competition play. It's a year-long process with a lot of sweat, sacrifice, family support and travel time.
As Coach Wayne Bryan put it, "It's all hard work and drudgery. That inspiration leads to passion. Great tennis can be at all levels. But it's important they have fun each and every day."