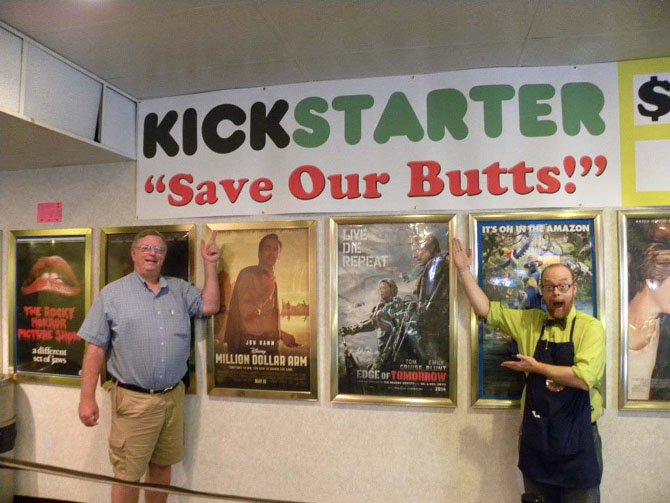 University Mall Theatres, in Fairfax, needs $100,000 to replace its second-hand seats. Nearly each seat in the 23-year old theater has been repaired with duct tape to cover up tears and exposed foam.
Theater manager Dan Collings said, "The chairs are beat up and old." Underneath the duct-taped seats, the metal supports are also rusty.
One of the seats has a box on top, to prevent people from sitting on it, as the back of the seat has fallen off. "In the dark, somebody sat on it and fell," said Collings. "And, we're mortified by this. We have to do something."
Collings and owner Mark O'Meara want to replace 500 seats. The type of chair they want is made by Greystone Seating, and it costs $200 a piece.
O'Meara got the idea of using Kickstarter while attending the Art House Convergence Conference in Long Island. He shared the idea with Collings, who then created the video for the fundraiser, which is called University Mall Theatres 'Save our Butts!'
AS OF AUG. 8, the campaign has raised $53,009.
But the donations have slowed down since the beginning of the campaign. "The second half is harder to get than the first half," said Collings. "It would be awful to come this far and not be able to get the seats," he said.
A second-run theatre, which charges $4 for adults and $3 for children, Collings said that there is no way they can afford to buy a brand new beautiful seat, like the Greystone chair displayed in the lobby.
O'Meara bought the theater's current seats second-hand from the Mt. Vernon Multiplex Cinemas, which closed in 2007. The seats were from 1987, and they were already falling apart when O'Meara got them.
Kickstarter's all-or-nothing funding policy means that the theater has to raise the full $100,000 or it will get nothing. But if the campaign raises more than the goal, it gets to keep all of it.
"There's so many things we can do. So much stuff that we would love to improve and make better for people," said Collings, who has been working in the theater for 19 years.
He already has suggestions from customers, such as new carpets and wall coverings and refurnishing the bathrooms.
It would cost about $56 for a family of six - two adults and four children - to watch a movie that is not a matinee. This does not include popcorn, soda or candy.
But at the University Mall Theatres it would only cost $20.
"It's a good price for a family of six," said Chris Shue, of McLean. He and his son, Ben, saw X-Men: Days of Future past for $7.
The theater is a little far away from where they live but they love it. "We come here once or twice a month, maybe. It's just cool because it's small," said Shue. Plus, he likes supporting the independent business.
Shue does not mind the theater's seats. "It's not a first-run theater but it's also a third of the price...As long as there's a cup holder, we're good," he said.
Kim Isler, of Oakton, also does not mind the state of the seats. "They're fine for the price," she said. She and her son Michael, 13, like coming here for it. However, she is glad that the theater is now using digital films. The theater transitioned to digital film projectors last year, for which O'Meara had to get a loan.
CONSTRUCTION at University Mall made the theater hard to find, as fences have been erected and big machines obstruct straightforward access. "We have people call literally out front," said O'Meara. He wants people to know that the theater is here and it is open.
Collings is hopeful that people will come through. "With the infusion of money, we can do all kinds of wonderful things."
The deadline for University Mall Theatres 'Save Our Butts!' campaign on Kickstarter is Aug. 31. Information can be found at https://www.kickstarter.com/projects/dan-the-man/university-mall-theatres-save-our-butts.