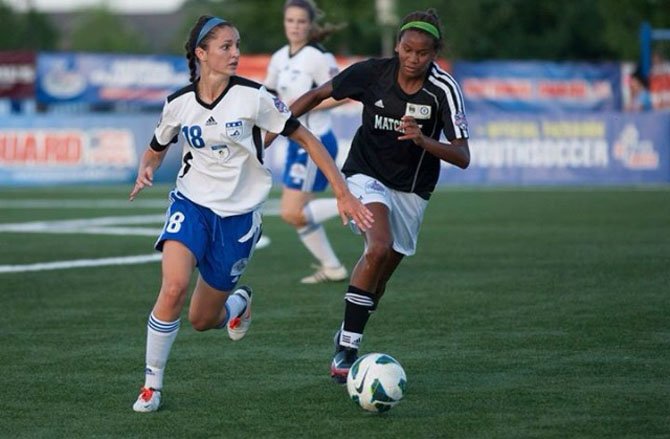 Kaleigh Riehl has been "playing up" her whole life. When the lifelong Fairfax Station resident first joined the Braddock Road Youth Club (BRYC) soccer team at age 7, she played with 8-year-olds and had to wait until she reached that age to compete. "If you're younger and you can play up, you play up," said Riehl's BRYC coach Larry Best. "We look at it according to skill level. It's better for their development."
At just 17, the South County High School senior spent the first half of August training and competing throughout Canada with the U.S. women's under-20 team in the FIFA World Cup for that age group. She was joined on the U-20s by fellow BRYC player Carlyn Baldwin of Oakton, who recently began playing at the University of Tennessee, and 2013 South County grad Andi Sullivan, now at Stanford.
The team lost in group play to eventual tournament champion Germany by a score of 2-0, then won its next two matches, shutting out Brazil 1-0 and China 3-0. They advanced to the tournament quarterfinals held in Toronto on August 16, when they lost to Korea after a 1-1 tie in regulation and 3-1 decision by penalties.
"I'm speechless," Riehl said of the experience. "It's just such an honor to wear the crest, and just go out there and play for your country. Words can't even describe it."
RIEHL BEGAN PLAYING SOCCER with a house league at age 5, following in her older sister's footsteps. Her first coach was her father Mark, a four-year starter at defender for the University of Virginia. When Kaleigh moved to BRYC, dad came along and became an assistant coach.
"She's actually made it easy," said Mark. "Growing up, you see a lot of different combinations of fathers and daughters in playing soccer. A lot of times it doesn't work very well. There's a perception that there are certain biases a father might have that coach would not. She's always earned her way on to the field -- everyone can see it's deserved."
Like her dad, Kaleigh also plays defense. Mark says friends like to joke about the apple not falling far from the tree, but that can be a good thing in this game. "We're both very determined, very focused in how we play," he said. "She's more skilled than I ever was."
"I definitely look up to my dad," Kaleigh said. "Just his passion for the game. He's still playing, and I think that's incredible. He plays in with us at training. He just loves it and I think that's awesome." Other soccer role models include decorated Olympian and pro player Abby Wambach ("She's an incredible leader.") and FC Barcelona and Argentina national team player Lionel Messi ("He's so creative -- I don't think anyone in the men's game is as good as he is.").
Mark and coach Best have been developing Kaleigh's skills and directing her focus and determination for years, guiding her preparation for the highest level of competition. For her, the decision to go all-in was somewhat organic. "I kind of always knew," said Kaleigh. "I stopped [horseback] riding after sixth grade. I was like, I don't have enough time for it -- just have to focus on soccer. That's what I like the best."
That focus had lofty, yet attainable goals. "Her objectives were always to get to the national team level," said Best. "We just put a plan together. She got on her track and kept getting better and better and better. People started really noticing."
IN 2013, KALEIGH (then 16) received an invitation to the U-18 national team tryout camp. A last-minute concussion that occurred in practice kept her from attending. A few months later, fully recovered, she was invited again and ended up making the squad. A year later, she was brought up to play on the World Cup U-20 team -- all according to plan.
Best's national track at BRYC is modeled after a recent call from U.S. Soccer to develop more fundamentally sound and well-rounded players. According to Best, American women's soccer had been an international force until about five years ago, when teams with better skill sets top to bottom started catching up.
"There's four components to the game," said Best, "technical skills, tactical, physical and the mental. For so many years, U.S. soccer had that model upside down." Now, he says, they're looking for more well-rounded, technique-minded players coming out of programs that have adopted the new model.
"We play a certain style which allows the kids to become better players," said Best. "We don't put winning first." They also emphasize hard work and top performance in the classroom. When deciding on a training track, BRYC also does education counseling to make sure each player's academics match their soccer performance. And ultimately, that they find a good fit for college.
"Girls soccer has one of the highest transfer rates," said Best. "So many decisions that are made at an early age." "We reinforce the fact that at any time soccer can go away and education is really the most important aspect," said Mark.
Kaleigh believes she's found the right fit at Penn State University, where she plans to matriculate after graduating early from South County so she can get a head start on training with the women's soccer team. She's looking to major in kinesthesiology, and eventually pursue physical therapy.
"I just love to be around athletes," she said. "As a job I think that would be great."