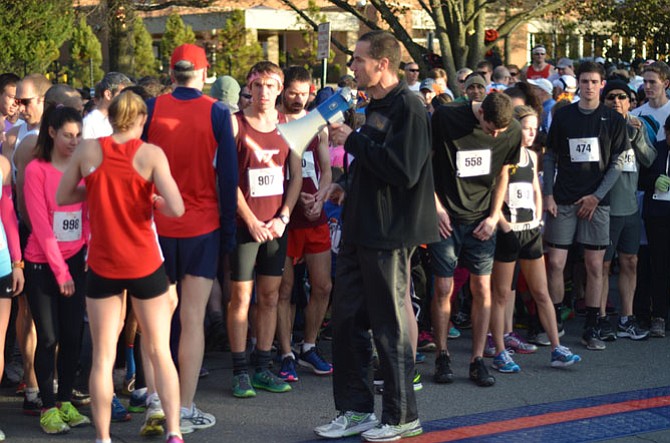 Residents from communities surrounding Herndon attended the annual Herndon Turkey Trot 5K on Saturday, Nov. 22. Over 1,100 runners, eight elementary school running groups, 50 plus volunteers, Town of Herndon staff, and many local and national sponsors contributed to the success of the race. Race participants donated 40 large boxes of nonperishable food items, which were donated to LINK and participants brought in more than 200 pairs of athletic shoes to be recycled.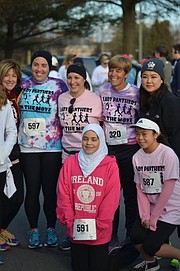 Race Day registration for adults was $25, youth age 18 & under $20. Race shirts were allotted to people who signed up before Nov. 17. Helping provide instructions to racers in the 5K was certified trainer Wolf Gottschalk. In the end, Joe LoRusso finished the 5K first with a time of 16:28, second place went to Romain Mareuil with a time of 16:32, and third place to Susanna Sullivan with 16:41. Sullivan, who used to be an assistant cross country coach at Oakton High School teaches at a school in McLean. "I love the atmosphere here," said Sullivan.
"I heard about this event through a neighbor," said Town of Herndon resident Steve Privott who participated in the 5K. Students from many schools in the area participated in the event including Herndon Hutchison Elementary School, Dranesville Elementary School, and Stone Middle School. Wolf Gottschalk provided instructions on the race course and offered encouragement to participants. Families also participated in the race event including the Griffith family. "It is a neighborhood thing, we like to stay active," said parent Carolyn Griffith.
"It is a great event," said Oak Hill resident Andrea Lindsey, who was running with her son. "The route is pretty easy and we always see people we know." Thomas Schoenauer, Herndon Community Center Recreation Services Supervisor was pleased with turnout for the 5K race. "This is my third year organizing the Herndon Turkey Trot 5K and I am delighted with the outcome," said Schoenauer. Inside the Hendon Community Center was a paper mache turkey wearing running sneakers which had been crafted by volunteers to promote the event. Sponsors for the race event included Jimmy's Old Town Tavern, Amphora Bakery, Evergreene Homes and Great Harvest Bread.
Herndon Community Center is an award-winning fitness and recreation facility located within Bready Park in the Town of Herndon. This year the community center celebrated 35 years of service. The Hendon Community Center (HCC) will host a craft fair on Sunday, Dec. 7. Over 80 artisans and craftspeople will exhibit and sell their work at this annual arts and crafts show sponsored by the Town of Herndon Department of Parks and Recreation. A variety of handcrafted items and fine art will be on sale including wreaths, quilts, jewelry, Christmas ornaments, decorations, original artwork, photography, stained glass, and more. On Dec. 13, HCC will host A Storybook Holiday Brunch for ages 3 to 8. For more information on the Herndon Community Center, visit www.herndon-va.gov/Content/Parks_rec/.