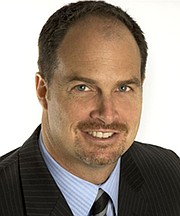 It wouldn't be stretching the truth to describe this partnership as a potential match made in heaven. On Dec. 4 the press releases went out, announcing that Berkshire Hathaway HomeServices, part of the HSF Affiliates LLC family of real estate brokerage franchise networks, was officially welcoming regional powerhouse Prudential PenFed Realty into the fold, where it will now operate as Berkshire Hathaway HomeServices PenFed Realty. That may seem like a mouthful, but the two names, like the two companies, are too well recognized and have earned too much respect in the marketplace not to employ them both.
The two share several qualities, other than name recognition, that make their partnership seem destined for success. They both have demonstrated the ability to achieve impressive growth goals. PenFed Realty began in Reston in January of 2006, when Kevin Wiles became the founding broker, helming one office and 25 agents. Despite the enormous challenges posed by the economic crises of 2008 and the years following, PenFed Realty now boasts 51 offices and some 1,700 agents on the job, covering Virginia, Maryland and the District, and even offices in Texas, Florida, and Tennessee. How did they get through those difficult years to emerge as a major regional player and a national real estate company? President and Principal Broker Wiles said in a phone interview, "We like to say we have the culture of a small family real estate company with the support and backing of a $19 billion financial institution." Wiles is referring to Pentagon Federal Credit Union, PenFed's parent company. "Our services are available to the general public, of course, but PenFed Credit Union has 1.3 million loyal customers and is the third largest credit union in the country."
Berkshire Hathaway HomeServices' growth since its launch just 15 months ago, is one reason that the company was named "Real Estate Agency Brand of the Year" early in 2014 by consumers in the 26th annual Harris Poll EquiTrendÒ study of the largest real estate networks. In that short time, the company has grown to include more than 34,000 agents operating in more than 1,000 offices in 47 states.
INNOVATION AND CUTTING EDGE market technology also unite the two entities. "Prudential was outstanding, but this is a real step forward for us," said Wiles. "Berkshire Hathaway HomeServices offers some amazing tools, real state-of-the-art resources. They offer cloud-based, global technology with an international real estate portal, and the most up-to-the minute real estate data. At the same time as we join forces," he added, "on our side we are rolling out a really exciting marketing and technology platform pushing us toward paperless in all aspects of the real estate transaction process. Once a contract is in the system, it never has to come out. Everything about it can be done electronically."
PenFed Realty's commitment to innovation is also highlighted by some of their unique programs. "Real Estate Rewards is a program where we may pay up to $10,000 in a buyer's closing costs when they go through PenFed Credit Union," said Wiles. "And we are especially proud of our Real Heroes Program, where we will assist up to $2,500 with the pre-licensing and other first-year start-up costs for persons who have served in a branch of the US military or their spouses, who pursue a career in real estate."
HOW IS THE TRANSITION from Prudential to Berkshire Hathaway HomeServices being seen at the branch level within PenFed? "It's already having a magnetic impact," proclaimed Wiles. "Since we first announced the pending move back in early August, one hundred agents have joined us. Reston Branch Manager Tara Winfree agrees. "Our agents are beyond excited," she said. "There are some mind-blowing tools and new resources." Winfree cited online tools that calculate commute time ("With traffic!" she noted) and calculators that help a homeowner more accurately assess their home's value. "I think the consumers will immediately see a positive improvement." Like Wiles, Winfree is also seeing an increase in experienced and proven agents expressing interest in joining the company. "In just one word, I would say this partnership is 'awesome!'"
Wiles admitted that in addition to "excited," the words "tired" and "busy" could also be used to describe this time surrounding the transition. "But it's more than worth the effort," he said. "You have to change to move forward, and that takes work and includes challenges. The namesake of Berkshire Hathaway HomeServices, Warren Buffett's Berkshire Hathaway Inc., is one of the world's most trusted and respected corporations. PenFed has built a solid reputation and has the backing of one of America's strongest and safest financial institutions. Together, we can reach all market segments. We are more than just a real estate company."
Berkshire Hathaway HomeServices PenFed Realty will be commemorating its brand transition in early December with a ceremony and reception at the Congressional Country Club in Bethesda, Md. According to their press release, similar events are also planned for the brokerage's local offices.