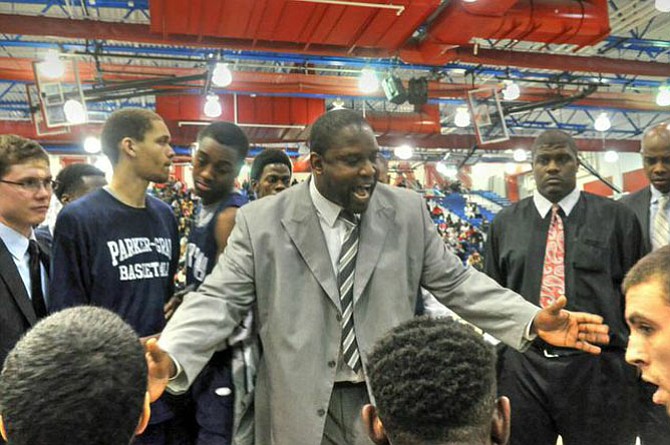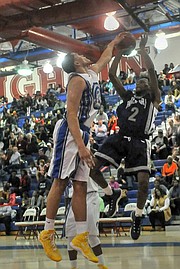 Bryan Hill faced a tough task in his first game as T.C. Williams boys' basketball coach.
The Titans on Dec. 5 hosted a talented Wakefield team that had reached back-to-back state tournaments. Friday's contest started with Wakefield building a slim first-half lead and ended with the Warriors dominating the final 16 minutes. Wakefield senior Dominique Tham, the reigning 5A North region Player of the Year, scored 25 points, grabbed 22 rebounds and the Warriors cruised to a 74-46 victory at The Garden.
It was Wakefield's first win on T.C. Williams' home floor since 1996.
Long after the final buzzer sounded, Hill stood in the Titans' locker room and shared his thoughts on T.C.'s performance.
"Insanity," Hill said, "is doing the same thing and expecting a different outcome."
Hill, who came to T.C. Williams from Ballou High School in Washington, D.C., takes over a Titan program that was one of the area's best for years, but has fallen on hard times of late. TC won four games last season, just three years after winning the Northern Region championship under then-head coach Julian King.
While Friday's lopsided loss was just one game, it showed Hill, a standout at W.T. Woodson High School who played collegiately at Georgia Tech, has some work to do in order to reach his players.
"I know that what was displayed out there tonight was not what we coached," Hill said. "It's about breaking habits — really breaking habits and ... getting them to understand that you have to play as a team. If a team is a better running team than we are, then we've got to slow the game down. We've got to make five, 10 passes and slow the game down. But it's like talking to a wall sometimes."
Led by the talented trio of Tham, senior sharpshooter Marqua Walton and sophomore transfer Alan Treakle, Wakefield outscored T.C. Williams 45-22 in the second half. Tham controlled the boards and was nearly unstoppable in the paint. Walton scored 14 points, including a trio of 3-pointers, and Treakle ran the offense and added 10 points.
The Titans had no answer.
"Our kids learned something tonight — at least I hope they learned something tonight — that we've got to share the ball, we've got to play as a team the whole game, offensively and defensively," Hill said. "I give credit to Wakefield for how they played the game. They played the game the right way — to their strengths. We've got to learn to play to ours."
There were some bright spots for T.C. Williams. Junior guard Jordan James scored a team-high 13 points, and junior guard Tavaris James added 11. Hill, however, wouldn't hand out any individual praise following the loss.
"I take credit for losses," he said, "I give kids the credit for wins."
What did the Titans' leading scorer think about the team's performance?
"I feel like we got out-worked," Jones said. "We need to work harder in practice and be confident on ourselves."
The Titans' next opportunity will come on the road against West Springfield at 7:30 p.m. on Friday, Dec. 12.