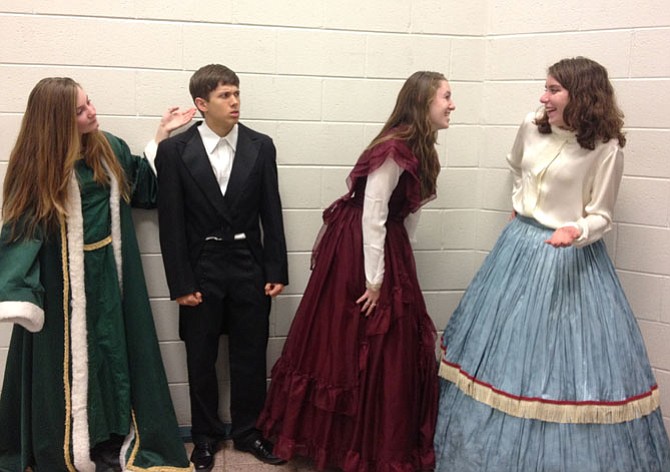 A timeless, holiday classic comes to life when Chantilly High presents Charles Dickens's "A Christmas Carol."
Featuring a cast and crew of 37, the show takes the stage Thursday-Friday, Dec. 18-19, at 7 p.m. Tickets are $5 at the door or via www.chantillyhsdrama.com.
"The actors are really doing a very nice job creating believable characters in a script which is fairly short, as is the original Dickens story," said Director Ed Monk. "We're trying to get away from the 'cutesie' versions of 'A Christmas Carol' and remain true to the heart of the story, which is about a man seeing redemption by discovering the power of love."
He said this show is always fun to do because "the audience comes into the theater in such a good mood. They're ready for the season and for this story, as are the cast and crew. So as long as we do our job, there's an amazing feeling of warmth at the end of the show. I'm hoping everyone can take a moment out of their busy schedules to come see the performance — it's a fun way to start the holidays."
Portraying the main character, Ebenezer Scrooge, is senior Ryan Rickard. "He's one of the richest men in London, but also the coldest, greediest person," said Rickard. "It's Christmas Eve in the 1840s, and he despises Christmas because he's all about money, while everyone else cares about love and kindness."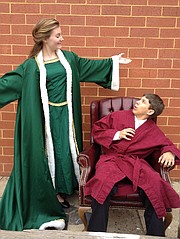 Then Scrooge is visited by the ghost of his old business partner, who tells him he'll get a second chance at life if he listens to the messages of the three spirits of Christmas Past, Present and Future. "I love playing him because it's one of the most well-known characters in literature," said Rickard. "And because he's so dynamic, I get to show a total shift in his character as the play progresses."
"Playing the lead is nerve-wracking, at first," he continued. "But it's also rewarding getting a lot of time onstage and having the whole story centered around my character. Audiences will like how we pull everything off with a limited set and props — that makes it a more intimate show."
Senior Druw Austin plays Scrooge's employee, Bob Cratchit. "He's a nice guy, keeps his head down and does what he's told," said Austin. "But he refuses to face the truth that his son, Tiny Tim, might die because he's so poor that his family can't afford food or the medicine to treat him."
Austin said it's a difficult role for him because he's used to playing "big, fun characters, and this one's really serious. But I like it because it's a challenge." He, too, said people will enjoy this show.
"It's a classic — everybody knows and loves it," said Austin. "The audience will like our set with levels symbolizing the different social classes in England. And the actors are able to portray their relationships to each other in just four or five lines."
Portraying Mrs. Cratchit is senior Vi Trinh. "She's very loving, and that motivates everything she does," said Trinh. "But she's also a realist, so she's not blind to the fact that Scrooge is basically 'killing' her child, and she gets on her husband about it. She's nurturing and wants to hold her family together."
Trinh said her character's "fabulous" to play because she's so strong and maternal. "She's her family's glue and support," said Trinh. "She also has a wide range of emotions and will have a deep, emotional connection to anyone in the audience with a family or going through hard times with their family. And she's sassy, too — a very powerful character."
Calling it a "wholesome and warm show," Trinh said the "undertones of emotion will shine through. Audiences will learn about the true meaning of Christmas, family, happiness and love — all the good stuff that should be in a Christmas play."
Junior Hannah Warnick shares show-publicity duties with Nora Malatinszky. They've hung up posters about "A Christmas Carol" throughout the community and brought flyers to the local middle schools.
"All the actors are working really hard and are looking forward to performing in the show," said Warnick. "The audience will enjoy it because it'll really get people in the Christmas spirit and put them in the holiday mood."