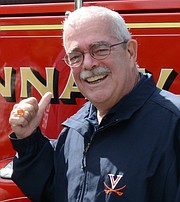 The representative is just a phone call away. Rather than cramming thousands of constituents into a single room, U.S. Rep. Gerry Connolly (D-11) is hosting his 22nd "telephone town hall meeting" where people call in for an hour-long virtual session. The event is set to take place Dec. 16 at at 8 p.m.
Typically, the congressman begins with a brief recap of recent congressional goings on with relevance to the district. Then the bulk of the meeting will be Connolly fielding questions from callers and people who send tweets to his handle @GerryConnolly.
All residents of the 11th congressional district are eligible to participate in the call. To register for the event, Connolly's office is asking constituents to sign up online at http://connolly.house.gov/telephone-town-hall by 2 p.m. on Dec. 15.