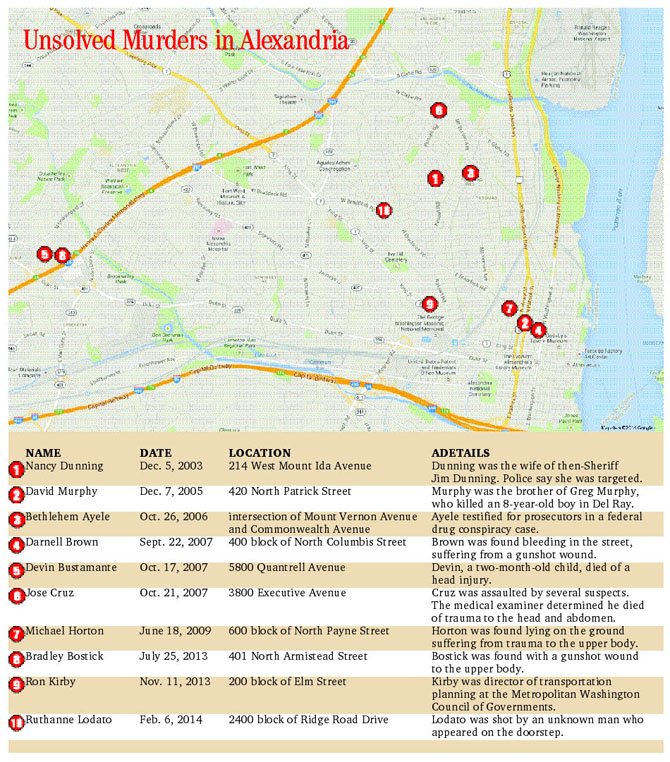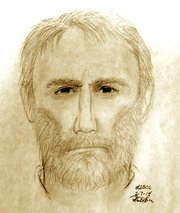 The late Ellen Pickering used to call North Ridge "Happyland," a quiet suburban stretch of the city where neighbors knew each other and the most shocking crime that happens is when someone's car is broken into. But that sense of tranquilly was shattered last week, when music teacher Ruthanne Lodato was shot and killed in Braddock Heights when a balding man with a grey beard knocked on the door. Another unidentified woman was also shot, although she survived and is now helping police track down the killer.
Police Chief Earl Cook told neighbors at a community meeting this week: "You should be concerned."
Many neighbors say the most unsettling part of the murder is the pattern of unsolved homicides, particularly of prominent people. A decade ago, Nancy Dunning was shot and killed at her home in the middle of the day. Then, last year, Ron Kirby was shot and killed at his home in the middle of the day. Dunning was married to then-sheriff Jim Dunning, and the crime was never solved. Kirby was director of transportation planning for the Metropolitan Washington Council of Governments. Labato was also a prominent member of the community, leading many neighbors to worry that a serial killer is on the loose.
"I feel safe in a general regard, but I'm also cautious because although we live in a great city we have some very strange crimes," said Ruth Brannigan, who lives in Del Ray. "I see friends of mine who have glass doors, and I'm concerned for them."
DURING A MEETING of the North Ridge Citizens Association, Cook updated neighbors on the status of the case. But he revealed little new information. One of the questions was about what kind of similarities might exist between the Kirby murder and the Ladato murder. What kind of gun was used? Were similar bullets found at the crime scene? Did Kirby and Ladato have any kind of relationship to each other? Cook said his detectives were investigating these questions. But he was quick to add that they would not be sharing that information with the public.
"If and when we find out about that, I can't reveal it to you," said Cook. "We have to be very careful with the information that we have because it is evidence, and if we discuss that outside of that realm then we can actually harm our ability to prosecute that case in the future."
Police records show 10 unsolved murders in Alexandria over the last decade. Most were found with gunshot wounds. One was an infant. Some were from Maryland or Pennsylvania. Others had lived in Alexandria for years. One died of trauma to the head and abdomen after being assaulted by several suspects in Arlandria. Because Kirby and Lodato were prominent members of the community, though, many people were immediately reminded of the Dunning murder.
"I don't answer the door unless I know who it is. Absolutely not," said Susan Aubuchon, who lives in North Ridge. "It's a different day for us here. I would have answered the door for a stranger until now."
THE COMPOSITE IMAGE released by police Friday night shows an older white male, balding with gray hair and a full beard. Within the first 24 hours, Cook said, detectives received more than 300 tips associated with the image. Agents from the Federal Bureau of Investigation are working with Alexandria police officials to help sort through the tips. Virginia State Police helped Alexandria detectives collect forensic evidence inside the home on the day of the murder, and detectives in neighboring jurisdictions are helping track down tips throughout the region. This week, more than 80 recruits from the Northern Virginia Criminal Justice Academy were in the neighborhood to help track down any additional evidence. Even Mayor Bill Euille is helping with the investigation.
"I carry the profile myself in my pocket, and when I see folks I take it out and look at it. I actually walk up to them and look them over," said Euille. "I hope I catch the person."
Until a suspect is arrested, many neighbors say, they will feel a sense of dread every time they hear a knock at the door. Police officials are urging people not to open their door for strangers. Streets that are usually crowded with people walking their dogs have become deserted. A new sense of uneasiness has settled in Alexandria, were many residents fear that another unsolved murder may be on the horizon.
"It's a little eerie to be home alone, day or night," said Lauren Elizabeth Smith, who lives near the Labato crime scene. "When it gets quiet, it's unsettling."