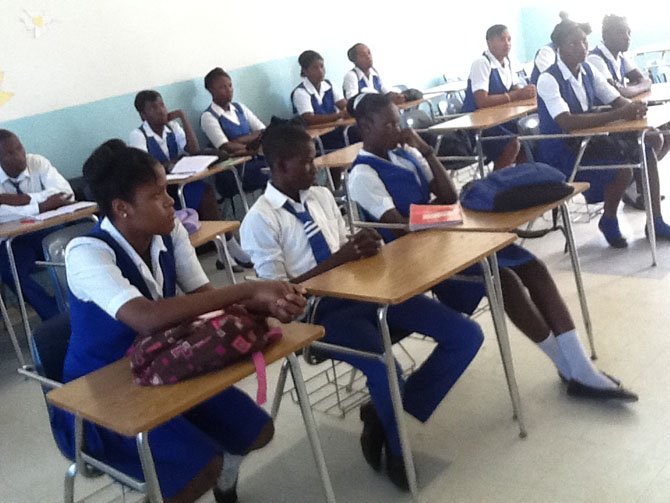 Hearts For Haiti
A tuition benefit for underprivileged, first generation college freshmen in Haiti
Thursday, Feb. 20, from 5:30 – 8 p.m.
The 201 Bar at Capitol Hill, 201 Massachusetts Ave. Northeast, Washington, D.C.
RSVP to aliciarhughes@gma... and pay online directly by contributing at http://www.double...">www.doubleharvest....
The Host Committee: Alicia Hughes, chair; Antilla Trotter III, co-chair; John Chapman; Frank Fannon; Isaac Fordjour; Kendra Gillespie; Al Grant; Siraaj Hasan; Gaea Honeycutt; Darrell "DJ" Jordan; James Lander; Chris Lewis; Michael Lyles; Deborah Mack; Michael McQuerry; Scott Price; Carla Bass Richmond; Cheeky Sasso; Angela Turner and Shavannia Williams.
Haiti is a naturally beautiful paradise nestled amongst the irony of extreme squalor and abject poverty. Much of its natural beauty has been destroyed by self-imposed deforestation that only intensified after the earthquake of 2010.
Four years later, with the camera lights shut off and ink dry from the pages of news articles that inspired us to care, still hobbling along is a complex and ragged Haiti, where life-changing aid did not get to the people most in need.
Upon leaving the Port au Prince airport, one is immediately met with an environmentally unfriendly smog-infested Haiti filled with masses of poor, proud Christian people — hopeful and helpless at the same time. There are still tent cities and shanty towns. Traffic and transportation systems are primitive. The only form of public transport is the tap-tap, a non-government funded vividly colored and decorated, dusty pick-up truck that treks up and down dirt roads and pothole-filled, crowd-infested streets that flood when it rains due to poor irrigation and hand-dug ditches. On the outskirts of the city, men, women and children can be seen bathing in dirty watered ditches, because some water is better than no water at all. While there are the haves, there are far more have-nots. Homes with no lights, no electricity, and no running water are commonplace for have-nots fortunate to have a home at all.
But even in Haiti, education is the great equalizer. Somehow, children all over the country are dressed in clean uniforms and presented for grade and high school daily. Students are disciplined and attentive in class, because they respect teachers and understand the opportunity to learn is a privilege. College students often take four or more tap-taps and awaken and start their journeys as early as 5 a.m. to get to class. Again, education is a privilege.
Approximately 70 percent of working age citizens in Haiti are unemployed. Of the remaining 30 percent who do have jobs, the minimum wage a lot of them receive is $5/day or $100/month, which equates to $1,200/year. A college education is roughly $1,000-$2,000/year per student, which puts college out of reach for most families.
Washington, D.C. spends approximately $18,667 per year per student and Arlington, approximately $18,675 for a public school education. What we spend on just one grade student here could fund a full year of university studies for a graduating senior class in Haiti. I learned first-hand working with a 35-year old non-profit in Haiti, Double Harvest.
Double Harvest Haiti has a community church, a top of the line medical clinic and employs more than 800 Haitians, teaching them sustainability and agricultural harvesting techniques. Most important to me, Double Harvest Haiti provides an education to more than 500 students annually and has existed for only the past 20 years. See www.doubleharvest.org/where/haiti/school.
I was privileged to spend quality time with the 18 members of the graduating class of 2013 at the Double Harvest School last year. Today, 12 of the Class of 2013's 18 graduating seniors are college freshmen in Port au Prince. Their majors include accounting, engineering, medicine, law and public affairs. All are first generation college students poised to substantially improve the well-being of their families. The excitement is daunting and now, the Class of 2014 has 35 students. The seemingly helpless have again become hopeful.
Education is the human rights issue of this generation. I wholeheartedly ascribe to the Chinese proverb "give a man to fish he eats for a day, teach a man to fish he eats for a lifetime." College education, especially in a place like Haiti, enables one to eat for life and feed his/her family.
As we approach Valentine's Day this Black History Month, I am fortunate to be joined by a cast of everyday and influential philanthropic friends and current/former elected officials to encourage once again, "Hearts for Haiti." Our hearts extend past partisanship to people. We believe, in the words of Max Lucado, "No one can do everything, but everyone can do something." We are hosting a fund and awareness raiser on Thursday, Feb. 20, at the 201 Lounge on Capitol Hill at 5:30 p.m. to fund spring semester tuition for these 12 first generation college students.
Please join us by going online to www.doubleharvest.org and donating according to your own heart's desire. Please note your contribution for "Haiti college tuition" in the comments section. Your contributions are tax-deductible. We have a suggested minimum contribution for our event of $30/person, and all revenue generated goes to tuition.
Alicia Hughes is a former Alexandria City Councilwoman and Miss Black USA '99 through USA Metroplex Pageant Systems, Inc. She is a graduate of Texas Southern University and the University of Miami School of Law where she was a Miami Scholar for Public Interest. She is an Aspen Institute Rodel Fellow