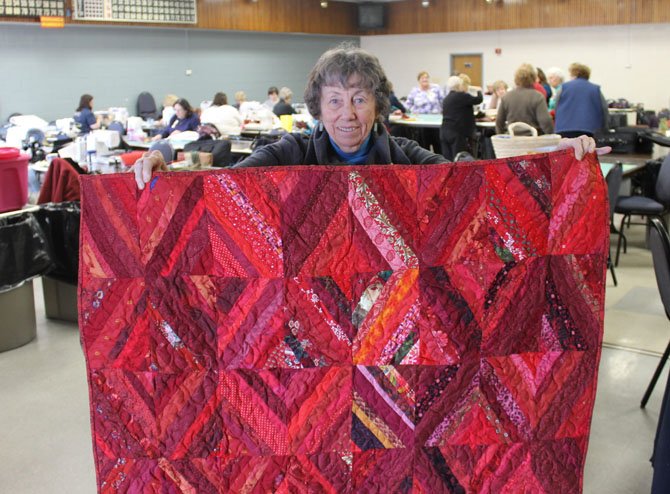 For members of Springfield Quilters' Unlimited, quilting is more than just a hobby. The group provides opportunities for meeting others, as well as giving back to the community.
"We want to give back to our community," said Springfield resident Anne Hyde. "It's also a great way to socialize."
In addition to learning more about quilting and mixing with individuals interested in the same activity, Springfield Quilters' Unlimited has led numerous campaigns to support members of the surrounding community.
Quilters' Unlimited members are currently working on quilts to donate to the Wounded Warriors program at Fort Belvoir.
Although members continue to donate quilts to the project, Springfield Quilters' Unlimited hosted a Quilting for Others workshop on Jan. 28.
Springfield Quilters' Unlimited has donated to several groups throughout the community. They recently donated 531 pillowcases for ECHO's Holiday Shop, in which parents fill the pillowcases with toys when shopping for their children.
According to Hyde, the organization also made 100 baby quilts for local hospitals, baby hats for area nurseries, dolls for children undergoing surgery at local hospitals, and quilts for other fundraisers.
"We really love to give back to the community," Hyde said. "We want to give comfort to recipients of our quilts."
Penny Boyanton said a variety of ages and skill levels come out to the quilting workshops.
"I've been quilting since 1976," Boyanton said.
Hyde said that in addition to donating to the community, the group learns a lot about quilting in general.
"Springfield is where the fun is," Hyde said.
Quilters Unlimited will be hosting the 41st annual Quilt Show at the Dulles Expo Center in Chantilly from May 30-June 1.