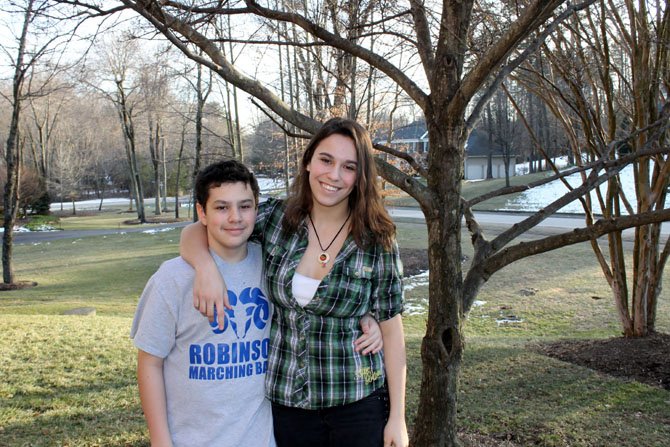 Rachel Keith, a 17-year-old Fairfax Station resident and senior at Robinson Secondary School, has been thinking about college long before many of her peers.
It was this forward-thinking that led Keith to take college classes at Northern Virginia Community College as a dual-enrolled student.
In May, Keith will graduate Summa Cum Laude with an associate's degree in social sciences. A month later, she'll graduate from Robinson.
Keith decided to take college classes at NOVA as opposed to strictly Advanced Placement and International Baccalaureate classes at Robinson because she wanted to experience a college environment.
"In hindsight, I'm much more satisfied and fulfilled in doing the dual-enrollment program and taking college classes than getting an IB diploma or just taking AP classes," Keith said. "I thrive better in a do-it-yourself, go at your own pace environment."
ACCORDING TO HER TEACHERS, friends and family, she is a motivated individual who really knows how to plan ahead. At age 12, she wrote her first novel.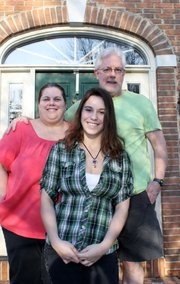 "She's just so motivated," said Gary Keith, Rachel's father.
Lia Keith, Rachel's mother, said her daughter is extremely disciplined and has done very well as a dual-enrollment student.
"She's one of the most self-disciplined people I've ever known," Keith said. "She's done very well."
Rachel Keith has received all A's at NOVA, except for one B.
According to Lia Keith, Rachel's actions have motivated her classmates to think more about their long-term goals.
"A couple kids that weren't even thinking of going to college are now thinking of going," Keith said.
Rachel Keith has been taking classes year-round since becoming a dual-enrolled student, but still manages to find time for other activities.
Keith is editor-in-chief of Robinson's literary magazine Carousel, and a writer for the school's paper, Valor Dictus.
"I've always been interested in writing. I love to write in my free time," Keith said.
Keith looks up to her newspaper advisor Deborah March, who she said is a fun and creative teacher.
According to March, Keith is a curious student who stood out from the beginning.
"She has this great sense of herself. She has curiosity that sets her apart," March said.
Although she initially wanted to be a journalist, Keith realized that she was fascinated with psychology, especially after taking a psychology class at NOVA.
Keith will enter college at James Madison University as a junior, and plans to attend graduate school.
"I feel like that is one of the advantages of doing this. I can look further into the future because I'll be done earlier with my general education requirements," Keith said.
Keith said she's heard that students change their majors multiple times in college.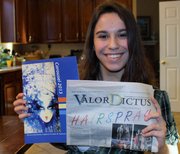 "It's less expensive to do that at NOVA than at William and Mary or UVA and these top schools," she said.
Lia Keith said that navigating the dual-enrollment system was somewhat difficult, as there are few students who have followed a path similar to Rachel's.
For example, in the Fairfax County School system, Advanced Placement and Honors classes are weighted higher than other courses, and have the potential to raise a student's grade point average. According to Lia Keith, dual-enrolment classes do not do this.
"Some will be high school credits, some will be college credits, some will be both. So she only has a certain number of the college classes she's taken on her high school transcript," Keith said.
COMMUNITY COLLEGES in Virginia also offer guaranteed admission to schools such as University of Virginia, William and Mary, and Virginia Tech, but Rachel Keith does not qualify because she is a dual-enrolled student, even though she followed the same requirements as those in community college who have already graduated high school.
"I don't take IB classes because I'm taking college courses at NOVA," Keith said. "If you look at the college I've done, this is just different."
Keith is set on attending James Madison, but said it depends on what she receives in scholarship money. The dual-enrollment program has allowed her family to save money, as she will be entering college as a junior.
"It saves a lot of money," Rachel said.
"A ton of money," her mom added.
Regardless of where she will attend college, Keith said she is excited to learn in a new environment.
"I'm really looking forward to meeting people who share the same interests as me, and really getting into the groundwork and the more complicated topics that are involved in what I want to do," Keith said.
According to Lia Keith, Rachel Keith has inspired her siblings, including 14-year-old Matt Keith, to consider the dual-enrollment program.
Rachel Keith said her time as a dual-enrollment student has led her to believe the school system is somewhat flawed.
"I went the unorthodox route, and for that I'm being pushed to the side because they can't measure my achievements in the same way," she said.