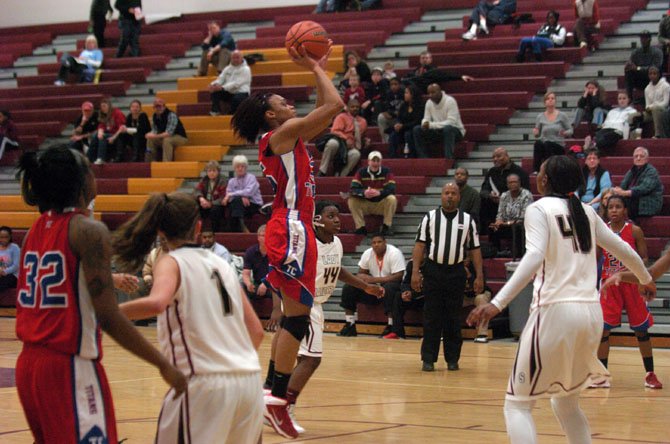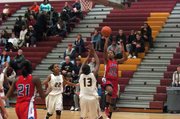 T.C. Williams girls' basketball coach Kesha Walton wasn't ready to move on.
The Titans will have multiple talented athletes back next season, but on Tuesday night at Stonewall Jackson High School, Walton took the time to praise a team that nearly won despite facing a double-digit second-half deficit.
"I'm still in awe that it's come to an end," Walton said. "I love this team and love the group of girls that we got to coach this year. If anything, I really wanted it for them."
T.C. Williams lost to Stonewall Jackson 51-47, ending its season in the 6A North region quarterfinals. Facing a team led by Wake Forest-bound post Nicole Floyd, the Titans overcame an 11-point third-quarter deficit to take 45-44 lead when Rejoice Spivey came up with a steal and a layup with 4:38 remaining in the fourth quarter. But a pair of turnovers in the final minute cost T.C. Williams a chance to knock off the Raiders, who entered the tournament as the No. 1 seed from Conference 8.
"These girls right here get after it," Walton said. "They fight to the end and no matter what they keep fighting."
Stonewall Jackson built a 34-23 lead midway through the third quarter thanks in large part to offensive rebounding. Led by 6-foot-2 Floyd, the Raiders scored 10 points on putbacks alone during the second and third quarters. As the game went on, however, the Titans, thanks in large part to 6-footers Grace Peterson and Taylor Burns, did a better job of defending the rim and started to make a comeback.
"I love this team and love the group of girls that we got to coach this year. If anything, I really wanted it for them."

--- T.C. Williams girls' basketball coach Kesha Walton
A 3-pointer by senior guard Angie Schedler cut Stonewall Jackson's lead to 34-30 with less than 3 minutes remaining in the third quarter. The Raiders extended their lead to six, but back-to-back 3-pointers by Spivey and Schedler tied the score at 38 late in the third.
Stonewall led 44-40 with less than 5 minutes remaining in the fourth quarter, but T.C. Williams answered with a 3-pointer by Schedler and a steal and layup from Spivey to take a 45-44 lead.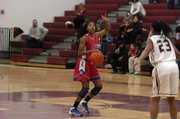 "We started to pick it up once we started to play together and stopped rushing everything," Schedler said. "We played our offense and it started to work."
However, a pair of free throws by Genesis Parker gave Stonewall Jackson a 46-45 advantage with 3:22 left in the fourth and the Raiders led for the remainder of the contest.
Peterson led T.C. Williams with 17 points while battling with Floyd and Stonewall Jackson's other post players. Floyd finished with 21 points.
"I think [Peterson] did a phenomenal job --- also, Taylor was instrumental in that," Walton said. "We basically just told [Peterson] to face guard [Floyd]. … Don't worry about where the ball is, just follow her around."
Peterson said she did "OK" against Floyd.
"I could have gotten more boards," Peterson said, "but it was a good experience."
Spivey scored 15 points for the Titans. Schedler finished with a trio of 3-pointers and nine points, senior guard Tykera Carter had four points and Burns added two.
T.C. Williams finished the 2013 portion of its schedule with a 4-5 record. The Titans made a New Year's resolution to complete the 2014 portion of their regular-season schedule undefeated. They did just that, winning 13 games in a row.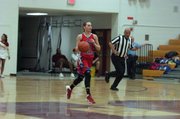 T.C. extended its winning streak to 15 with a pair of victories in the Conference 7 tournament, but lost to West Springfield 70-58 in the championship game on Feb. 21.
T.C. Williams defeated McLean 45-44 in the opening round of regionals on Feb. 24 before losing to Stonewall Jackson.
"It's tough because I've been in the program for five years, so it's pretty tough going through this," Schedler said after Tuesday's loss. "It happens. We just came out on the short end of the stick. We fought hard, so you can't really take anything away from that."
The Titans will lose seniors Carter, Schedler, Burns and Angelica Coleman, but will return athletes such as Spivey, Peterson and 5-foot-11 freshman Keyana Roberts.
On Tuesday night, however, Walton wasn't ready to look to the future.
"It's a little bit too soon," she said. "We're just going to have a lot of work to do in the offseason to prepare to get back here and go further next year. That will be our resolution coming in: to get further than we did last year."