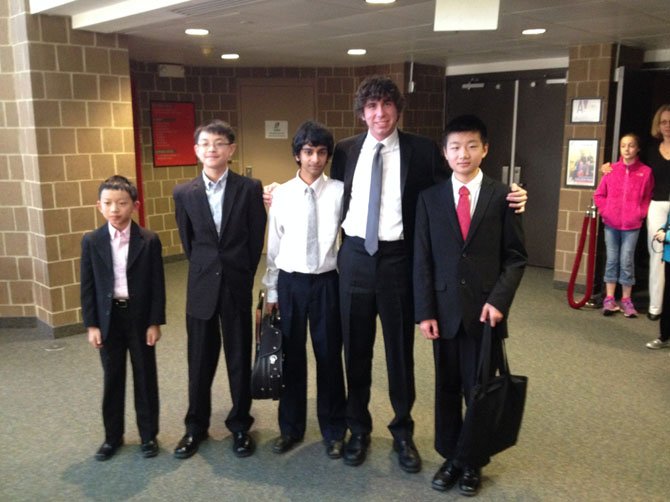 "It gives them a chance to do a little recital like a concert artist, with a first-class piano in a concert hall setting."
— Anita Lamkin, sponsor, Music Friends of the Fairfax County Public Library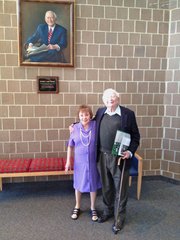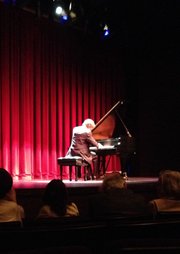 Five young musicians spanning an age range of seven years were given the chance to shine in front of a large crowd at the Alden Theater on Sunday, Feb. 23. While the audience heard lovely renditions of Chopin and Beethoven's works, the performers were able to relax a bit performing in a non-competition setting.
"Usually in competitions you perform for judges, but it's very rare that you actually get to play for people who have just come here to listen to your music," said 13-year old Kevin Wang, a student at Rachel Carson Middle School. Wang was joined by fellow pianists Victor Pan, 10, Evan Hu, 11, and Adam Heins, 17, as well as violinist Shankar Balasubramanian,16.
The "Young Soloists Recital" on Sunday, Feb. 23 was one of several youth performances that take place at the Alden Theatre each year. Anita Lamkin, a former Fairfax County music librarian, has been organizing the Concerts at the Alden series since 1973. The Young Soloists program began after her first year, when she realized that there are a large number of younger musicians who had to compete with more experienced adults from around the area.

"It's the only concert series that we know of that offers an opportunity like this," said Lamkin, now retired. "It gives them a chance to do a little recital like a concert artist, with a first-class piano in a concert hall setting. It's a great opportunity for them, plus it's free for the public."
Though each young performer has won numerous state and national awards, they were able to take a break from competing to play in front of the Sunday afternoon crowd. Parents and teachers alike agreed that the concerts are hugely beneficial due to the low-stress setting.

"It's great that Alden is providing these kids the exposure in a formal theater setting where they can perform their hard work," said, June Zheng, Evan Hu's mother. Like Zheng, Marjory Lee, Hu's teacher, couldn't have been prouder following Sunday's performance. Lee has worked with Hu for over five years and has watched his talents develop.
"They come and are inspired as children by these concerts. Here they can really express themselves instead of worrying about their scores," said Lee.
The Concerts at the Alden series is provided thanks to the generous support of the Music Friends of the Fairfax County Public Library. The next performance on March 9 at 3 p.m. will feature violinist James Stern and pianist Audrey Andrist, better known as the Stern/Andrist Duo.