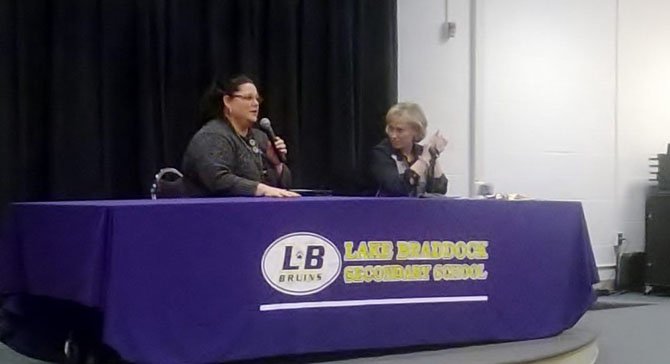 Lake Braddock Secondary School hosted Fairfax County Public Schools Superintendent Karen Garza for the final stop of her listening tour.
The listening tour, part of Garza's entry plan, allow parents, teachers and community members to voice their opinions and concerns related to the school system.
The final stop took place on Feb. 24, one day before the Fairfax County executive Ed Long released his proposed county budget to the Board of Supervisors. Garza has asked the supervisors for a 5.7 percent increase in the county transfer.
Braddock District School Board member Megan McLaughlin was also in attendance.
Garza has held ten listening tours this year, and said she is contemplating continuing some form of the listening tours in the future.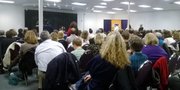 THE SCHOOL SYSTEM'S BUDGET was once again a major topic, as many parents and teachers continued to express their concerns of larger class sizes and decrease in positions.
Lake Braddock parent and Braddock District Supervisor John Cook attended the listening tour, which prompted several community members to express their desire for the full 5.7 transfer increase.
"Please know that schools are the most important thing that we do in the county, and it's the number one priority of the Board of Supervisors," Cook said.
However, Fairfax County executive Ed Long's proposed budget, which was presented Feb. 25 to the Board of Supervisors, falls short of the 5.7 increase. Long's recommended transfer is 2 percent.
Garza said at the listening tour that she recognizes that the Board of Supervisors has the large task of dealing with a growing county.
"We're very sincere when we say we want to work with our county Board of Supervisors. Yes, we have to champion for the needs of our school system. We're obligated to do that, and I think you'd expect us to do it. But we also know that we have to work with our county leaders to get this done," Garza said to the audience.
Garza also addressed salary increases for teachers, which she said is necessary to remain competitive with surrounding school systems.
"We can't afford not to have a salary increase for our employees in this budget," Garza said.
Achievements gaps continue to be an issue in Fairfax County, and Garza said closing these gaps is one of her permanent goals.
"Until we educate all children equally well, we can't consider ourselves the best and the brightest, because our communities, our county, our state and our nation, really depend upon how we educate even the poorest child," Garza said.
Garza said a focused plan to address achievement gaps will be seen in the coming months.
Speakers at the meeting addressed several topics, including the use of textbooks in classrooms.
Megan Labant, a math teacher at Lee High School, said literacy is a big issue in her school and very important when it comes to learning math.
"I think one of the biggest reasons behind the lack of literacy in math classes is that we do not follow a math textbook consecutively," Labant said.
HALF-DAY MONDAYS and the length of school days were also concerns brought up by parents at the listening tour.
Lisa Daniel said at the meeting that she is concerned with instructional time in schools, especially due to standardized testing pressures.
"We're trying to squeeze too much into too little time," Daniel said of half-day Mondays for elementary school students in Fairfax County.