"Who should be those to decide what is the best system of education? The people!"
— Thomas Jefferson impersonator, Bill Barker of The Colonial Williamsburg Foundation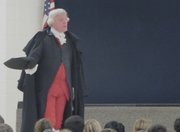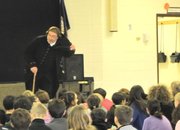 Two unlikely historical celebrities paid a visit to Fox Mill Elementary School students on Wednesday, Jan. 8, for a special assembly. When Principal Mie Devers announced that Thomas Jefferson would be a guest at their school that day, the cafeteria filled with sitting children began buzzing with excitement; at the mention of his friend, Patrick Henry, a large number of the sitting students shouted excitedly.
Jefferson, played by Bill Barker, and Henry, played by Richard Schumann, arrived at the school cafeteria at 1:30 p.m. Mr. Henry arrived first. After he introduced himself, he spoke of his undying love for the state of Virginia, as well as his recent visit to his good friend George Mason at his "Academy" just up the road. Just as he began to disparage the highly federalized country of France as compared to the United States' new republic, President Jefferson interrupted, "I beg your pardon!" as he stepped into the cafeteria.
Together, the duo of historical impersonators told tales of the early United States' history to the Fox Mill Elementary audience for an hour. They discussed their favorite pastimes of hunting, fishing and riding horses, and told of how over time the United States gradually dispensed of British customs such as bowing. Perhaps more importantly, Mr. Jefferson explained the importance of education for not just wealthy men, but also young women and children not born into families with money. "Who should be those to decide what is the best system of education?" questioned Jefferson, pausing, before answering his own question. "The people!" he exclaimed, receiving cheers from the audience.
The politicians welcomed questions from the students, and one fifth-grader asked President Jefferson whether he and Henry disagreed about any political issues. "Patrick Henry? He disagrees on everything!" exclaimed Jefferson, inciting laughter in the audience. The two proceeded to bicker about all the things political, including the necessary size and scope of the federal government and the importance of personal liberties.
Fairfax County was able to fund these historical figures' visits thanks to the generosity of Fox Mill community residents Carol Ann and Jim Babcock. "It's our effort to teach the young people today what the roots of our republic form of government are because in 10 to 12 years, they will be in the voting booth," said Mrs. Babcock, who was in attendance at the Jan. 8 assembly. "We're trying to teach history and make them eager to learn."
The Patrick Henry and Thomas Jefferson impersonators come from The Colonial Williamsburg Foundation, and have visited area elementary schools before in January 2011 and 2012. In addition to visiting Fox Mill Elementary, Mr. Henry and President Jefferson also went to 10 other Herndon and Reston elementary schools on Wednesday, Jan. 8 and Thursday, Jan. 9.