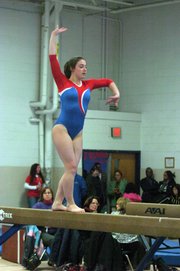 Two years ago, T.C. Williams gymnastics consisted of then-freshman Grace Girard's solo act.
The following year, Girard gained a pair of teammates.
This year, the Titans actually have a team — hopefully.
"We've grown," Girard said.
The 2013-14 T.C. Williams gymnastics team is composed of four members, the minimum needed to produce a team score. Injuries, inclement weather and other commitments had kept the four Titan gymnasts from competing together as of their Jan. 6 meet, but the group is hoping for team success at the Conference 7 meet on Jan. 31 at Lake Braddock Secondary School.
"I'm super excited for the regional and [conference] competitions," Girard said, "because we actually will have a shot at placing well as a team."
Girard, a club gymnast for the Arlington Aerials, revived T.C. Williams gymnastics as its lone member during the 2011-12 season. Prior to Girard, Shannon Murphy competed as T.C. Williams' only gymnast before graduating in 2009. Murphy, who was also a member of the Arlington Aerials, was the first gymnast to compete for T.C. Williams in many years, according to head coach Pete Novgrod.
After Girard spent her freshman season as a one-woman team, she convinced classmates and fellow Arlington Aerials gymnasts Holland Cathey and Jordan Mambert to join the team for the 2012-13 season.
This year, Cailyn Lager, a freshman at Minnie Howard and fellow Arlington Aerials gymnast, has joined the group, giving the Titans enough performers to compete as a team.
"I had to do some convincing to get them to join with me," Girard said, "but they happily joined."
The Titans' talent is evident. During a Jan. 6 meet at Thomas Jefferson, Girard won the all-around with a score of 33.9 and Mambert, a junior, placed third (32.725).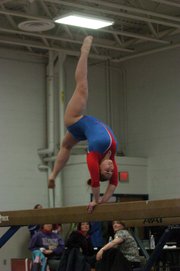 "They're not even showing their best stuff yet," Novgrod said.
Cathey, a senior, placed first on floor, beam and bars, but a miscue on vault kept her from winning the all-around. Girard and Mambert tied for first on vault.
Lager was unable to compete due to injury.
With just three competitors, T.C. Williams placed fourth out of five teams with a score of 94.2. Robinson won the event with a score of 125, followed by West Potomac (111) and Thomas Jefferson (103.575). Annandale finished fifth (38.5).
"It's been really fun," Novgrod said about being part of the growth of the T.C. Williams program.
When Girard was a freshman, she relied on support from other teams, like West Potomac. Now, the Titans support each other.
"It makes each meet a little more team-oriented," Girard said. "I know we don't have a full team score yet, but it's nice to have teammates that you know from your school that can help [cheer you on]."
Next step: recognition.
"It's really fun because a lot of people at T.C. are like, 'Wait, there's a T.C. gymnastics team?'" Cathey said. "We didn't even have a page in the yearbook last year."