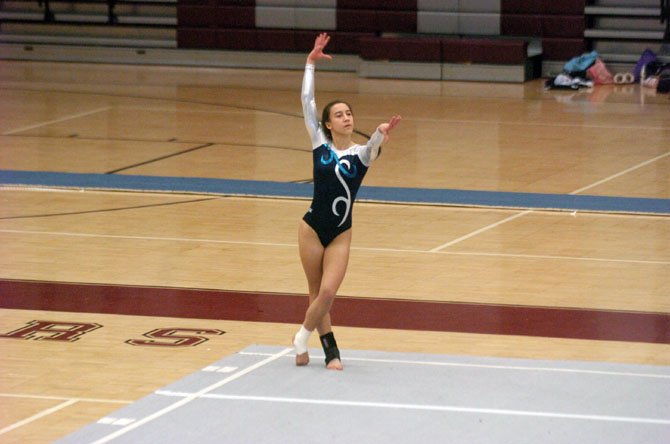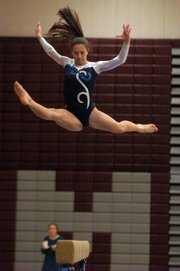 Led by the "Fab Four" from the class of 2013, the Washington-Lee gymnastics program last season completed a four-year run of dominance.
From the time Mary Lynn Clark, Kylie Auble, Maia Mandel and Madeleine Sendek were freshmen until the end of their high school careers, the Generals won every single regular-season meet in which they competed. W-L captured four consecutive National District championships, took home the 2012 and 2013 Northern Region titles and twice finished state runner-up.
With the Fab Four having graduated, W-L returned only one gymnast who consistently competed at the varsity level — junior Sophie Hatcher. But that hasn't stopped the Generals from continued success. For Washington-Lee, the 2013-14 season has been about a group of gymnasts finding a balance between maintaining the winning ways of the Fab Four and creating a new identity.
"We've all improved a lot from last year," Hatcher said, "so I think we still have a chance to do really well in the bigger meets coming up."
On Jan. 13, W-L won a five-team meet at Mount Vernon High School, giving the Generals four victories in five meets this season. W-L posted a score of 135.875, finishing ahead of Mount Vernon (109.9), West Springfield (89.1), Falls Church (87.375) and Wakefield (72.9). Hatcher won the all-around with a total of 35.325. She finished first on floor (9.175), beam (9.15) and bars (8.6), and tied for eighth on vault (8.4). W-L freshman Sylvia Shea placed second in the all-around (34.5) and Hatcher's twin sister, Annie Hatcher, finished fourth (33.675).
Joe D'Emidio, who has coached gymnastics at Washington-Lee for more than three decades, said this year's team has done well maintaining the program's success.
"I think it's been one of the best transitions I've ever coached," he said. "Because of the caliber that we had the last four years, I think a lot of the underclassmen saw that caliber and learned this is the level of gymnastics we should be competing at, so they're doing that. We were undefeated for four years, so it's in their system to win every meet. They get up on it with confidence that they're going to win and that's very important in gymnastics because you have a couple of falls on beam and your team just falls apart."
"We were undefeated for four years, so it's in their system to win every meet."

— W-L gymnastics coach Joe D'Emidio
The Hatcher twins have been two of W-L's top performers. Annie Hatcher competed at the varsity level last season but missed time due to an ankle injury. On Monday, she placed second on beam (8.975), third on floor (8.775), fourth on bars (7.625) and tied for 10th on vault (8.3).
Sophie and Annie Hatcher compete at the club level for the YMCA Arlington Angels.
"[Coaching identical twins is] a joy because they are twins that support each other," D'Emidio said. "To watch them compete at the same type of caliber is a joy. When you're coaching one, the other one is listening, so it's like you're really coaching one kid but they're both getting it."
Shea, a club gymnast for Arlington Aerials, is having a strong freshman season. On Monday, she placed second on floor (8.85), third on beam (8.925), third on bars (8.225) and tied for fifth on vault (8.5).
"She was very hesitant about trying high school gymnastics, but the twins and the other kids told her this is fun," D'Emidio said. "She was very hesitant with the first meet, but once we went through that first meet she went, 'this is fun.' Now she just enjoys competing. There's not as much stress like at the club level, where there's a lot of stress on the individual. Here, it's a team. If you fall, it's fine. We're here as a team and we cheer each other on.
"I think she likes it and I think she could be an outstanding gymnast in the next three years of her high school career."
Annie Siddle, Kristen Castro and Jennifer Laredo also competed for W-L. Siddle placed second on vault (8.7) and, while Castro and Laredo tied for third (8.6).
While W-L has four victories this season, the Generals had their undefeated-regular-season streak snapped on Jan. 8, when they finished behind Yorktown during a meet at Yorktown High School.
However, finishing second wasn't necessarily a bad thing, Sophie Hatcher said.
"We had that expectation that we were going to win every meet," she said. "Honestly, I wish we would have won, but it was kind of a little pressure off of us to keep winning each of the meets. We hope to beat them in the next couple weeks."
While the Generals have continued winning, they've made some changes to help build their own identity — something with which senior captain Siddle has played a major role.
"[Siddle is] really the glue of the team," D'Emidio said. "She really has brought the girls together. She also wanted to identify the new team.
She wanted to show that, OK, the seniors are gone, we're a new team, we're going to be champions. … She ordered new leotards, she got new shirts for the kids. … they're not saying, 'I wish we have Mary Lynn Clark.' Not once have they said anything about the seniors."
W-L will host meets on Jan. 23 and Jan. 25 before competing in the Liberty Conference meet on Feb. 3.
"It would be nice to make it regionals again — hopefully with McLean or Yorktown," Annie Hatcher said, "and maybe even states."
More like this story