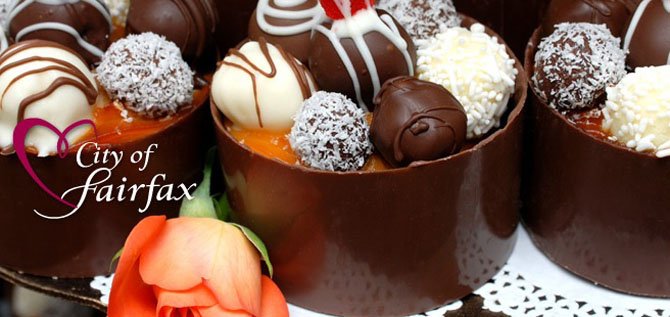 Chocolate — candy, cake, sauce, pancakes, fudge, ice cream and even a chocolate fountain or three — they're all part of the City of Fairfax Chocolate Lovers Festival. And this year's event, the 22nd annual, is Saturday, Feb. 1 through Sunday, Feb. 2.
A dream-come-true for chocolate aficionados, as well as for those seeking tasty treats to give as Valentine's Day presents, the festival offers a full slate of activities for all ages.
The fun-filled weekend contains everything from a competition to see who can make the most beautiful and creative cakes, cupcakes and sculptures in chocolate to an irresistible sampling of chocolate goodies that attracts thousands of people from throughout the Washington Metropolitan area.
"Chocolate and Valentine's Day belong together," said Mayor Scott Silverthorne. "The City of Fairfax's annual Chocolate Lovers Festival has become a delicious destination for people throughout the region and beyond. Join us!"
The festivities begin Friday, Jan. 31, at 2 p.m., when Kaydee Puppets offers "Chocolate Dipped Tales" for children at the City of Fairfax Regional Library, 10360 North St. Then on Saturday, Feb. 1, the day starts with the annual, Kiwanis Club Pancake Breakfast, from 8 a.m. to 1 p.m., at Fire Station 3, at 4081 University Drive. 
Dine on regular or chocolate-chip pancakes, plus sausage, coffee, juice and milk. Cost is $6, adults; $4, children ages 4-10. Children 3 and under eat free with a paying adult. There are also music performances, fairytales, a fire-safety puppet show, a Chocolate Caper mock trial, a magician and open houses in historic buildings.
New this year is the "Chocolate and a Movie" night, Feb. 1, featuring the original "Willy Wonka and the Chocolate Factory" starring Gene Wilder. Admission is $3/person and comes with a golden ticket that could prove lucky, and there will be children's stories and activities before the movie.
There's even a Chocolate Express providing free, shuttle service between event locations. It will run Feb. 1, from 9:30 a.m.-5:30 p.m. and Feb. 2 from 11:45 a.m. to 4:30 p.m.
"We are excited to again be hosting the Chocolate Lovers Festival in the City of Fairfax," said Festival Chairman Beverly Meyer. "It brings folks from all up and down the East Coast, young and old alike, and weather is never a deterrent for the festival."
The event initially began as a joint effort of the City of Fairfax, Central Fairfax Chamber of Commerce, Downtown Fairfax Coalition, Downtown Fairfax Merchants Association and George Mason University. The goal was to attract visitors to Old Town Fairfax, encourage participation in the community and foster cooperation among the city government, businesses and local residents.
The first festival was in February 1993 and, since then, it's become one of the city's most popular events. And two of the main highlights are the Chocolate Challenge and the Taste of Chocolate.
Running Saturday, Feb. 1, from 10 a.m. to 5 p.m., and Sunday, Feb. 2, from noon-4 p.m., on both floors of the Old Town Hall, 3999 University Drive, the Taste of Chocolate is not to be missed. Strollers may be left on the building's front porch. A fully accessible entrance is at the door on Main Street.
Admission is free; visitors buy pogs for $1 each and then browse around the vendors' tables to check out the wide array of chocolate treats being offered. When something catches their fancy, they pay for it in pogs.
For example, a slice of cake could cost three pogs, or a customer could buy three small pieces of candy for two pogs. The vendors set their own prices and roaming volunteers in red aprons will have plenty of pogs on hand for people wanting to purchase more.
And the variety of goodies is mind-boggling. There are chocolate cakes, all kinds of chocolate candies and bars, chocolate-covered strawberries, fudge, ice cream and even chocolate fountains into which customers may dip fruit, cake or marshmallows.
This year's Taste of Chocolate vendors include: BaTer Chocolates, C & D Sweets, Cakes by Shelby, Cameron's Coffee & Chocolate, Capitol Chocolate Fountains; Chocotenago, Cocoa Vienna, Confection Connection, Dave's Candy Kitchen, El Ceibo/Bolivia, Extreme Ice Cream, Fair Trade Winds, Fluffy Thoughts Cakes, Mike's Fudge, Rocky Mountain Chocolate Factory, Sugar Mama's, Virginia Chocolate Co. and Watergate Pastry.
The Chocolate Challenge, a display of imaginative creations in chocolate — art, cakes and cupcakes — takes place at the Nutrition Kitchen, 3950 University Drive. It runs Feb. 1, 10 a.m.-5 p.m., and Feb. 2, noon-4 p.m. Both professionals and amateurs participate, and judges and visitors judge them in various categories. Visitors may also vote for the People's Choice Award winner.
This year's judges include Sabrina Campbell, owner and executive pastry chef of Occasionally Cake; Dean Thomas Prohaska of GMU's College of Health and Human Services; and Fairfax Mayor R. Scott Silverthorne. The event also features a silent auction enabling visitors to bid on the challenge entries, as well as items from local businesses.
In addition, the Chocolate Lovers Festival Committee donates part of each year's event proceeds to a charity. This year's recipient is Best Buddies Virginia, a nonprofit providing opportunities for one-on-one friendships between people with and without intellectual and developmental disabilities. The funds will support the Best Buddies chapter at GMU.
"And don't forget to visit our downtown merchants, as they'll be running specials throughout the weekend," said Meyer.
For more information about the festival, go to www.chocolatefestival.net or call 703-385-1661.