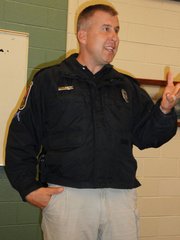 Fairfax County Police Det. Josh David minored in physics at GMU, and it's come in handy in his job.
A 13-year member of the Police Department, he's been with the Crash Reconstruction Unit for five years now. And, he said, "I realized how much math, physics and science is involved in what I do."
He spoke before a recent meeting of the Sully District Station's Citizens Advisory Committee, explaining what he and the members of his unit do every day.
David said his unit's task is "to determine what happened, see if there were any violations of the law and, if so, to prosecute them. We investigate crime scenes with shootings to help document the location of evidence. Patrol will also call us out to investigate accidents."
Generally, he said, "The crash scene will remain as it is until we get there. Then we can process the evidence, secure the scene and notify the family. We work closely with the patrol officers and rely on them to process for alcohol [use] before we get there."
David and his officers interview witnesses, take photographs, measure the scene with survey equipment for "skidmarks, debris, bodies. Whatever's in the roadway, we'll measure and document. Then we'll download the information into a CAD program to further refine it."
They also look for tire marks and impressions in the grass. "And we analyze all the evidence," he said. "We examine the skid distance for energy loss and speed. Based on the skid length, we can determine how fast a vehicle was going."
David said teens are still doing "hill-hopping" and that, too, often leads to accidents. It's when drivers speed up and intentionally go airborne over a high hill. However — as was the case several years ago in Oak Hill when the driver crashed into a tree on the way downhill, killing his 16-year-old front-seat passenger — it can also result in tragedy.
When such accidents occur, said David, "We measure the hill, figure out the launch angle and measure their skid marks to see how fast they were going." And in these and other crashes, he said, "We measure the distance people are thrown from a vehicle. The crush on a vehicle will also help determine its speed [before impact]."
In addition, he said, "We'll match the damage from vehicle to vehicle. And if we have a suspect vehicle, a victim and DNA, we can see if it matches."
Pieces of the puzzle can also come from another source. "Cars with airbags have a computer controlling [the bags]," said David. "And it takes information from various places in the car and decides when to deploy the airbag. So we can get information from it, too. It's a tool we rely on because it's so accurate. We even used it in an involuntary-manslaughter case."
Generally speaking, said the detective, "I find speed to be the contributing factor in almost every accident. And if people refuse to give blood or take a Breathalyzer test, we'll get a search warrant for their bodies to make them do it."
Regarding texting and distracted driving, David said, "We've had a few pretty serious accidents involving texting, and both involved pedestrian [victims]."
He said Fairfax County has from 35-60 vehicle fatalities a year, compared to about a dozen homicides. "And that doesn't include serious-injury accidents," he added.
David then warned the children in the audience to always wear their seatbelts and to stay inside the car after an accident until an adult helps them get out safely. "Don't run into the street," he said.
To the adults, David said, "If you witness a serious accident, wait until the police get there." He said the accident he did the most work on was a case involving texting and a pedestrian. Said David: "I interviewed lots of people and did a lot of time and distance analyses, and it ended up being a misdemeanor."
When he finished speaking, Sully Station Commander Ed O'Carroll praised David and the Crash Reconstruction Unit. Said O'Carroll: "The work they do in crash reconstruction is true detective work."