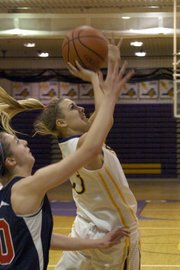 With her team trailing by two points late in the third quarter, Lake Braddock senior Caitlyn Mandela thought she was fouled on a shot attempt and informed an official of her displeasure with the no-call.
Mandela received a technical foul and Woodson capitalized by making one of two ensuing free throws, extending its lead to 30-27. Lake Braddock head coach John Giannelli had a talk with the forward before sending her back in the game.
"Caitlyn plays with a lot of emotion," Giannelli said. "Early in the year, I had her playing out at the [small forward] position and it was a little bit out of her game. Her game is more [suited for power forward or center] — the more contact, the more she's into the game and the more that fires her up.
"The thing with Caitlyn is her motor never stops. Sometimes I have to sit her down and say, let the game come to you instead of you go to the game."
Mandela didn't let the technical foul affect her aggressive approach. With the score tied in the final minute, No. 33 stepped up and made a play.
Mandela scored and was fouled with 33.9 seconds remaining in the fourth quarter. She converted the free throw and her three-point play proved to be the difference as the Lake Braddock girls' basketball team defeated Woodson 40-37 on Jan. 27 at Lake Braddock Secondary School.
"I just saw an opening and took it," Mandela said. "I love driving to the basket."
"I just saw an opening and took it. I love driving to the basket."

— Lake Braddock senior Caitlyn Mandela
The victory came three days after a 51-46 loss to Annandale and returned Lake Braddock to the winning side of .500 with an 8-7 record.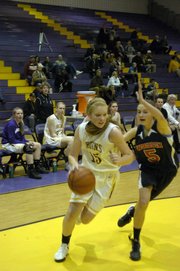 Woodson took a seven-point lead in the second quarter when a jumper by Jasmine Fasold gave the Cavaliers a 19-12 advantage with 1:50 remaining in the first half. But Lake Braddock responded with a 9-0 run in 87 seconds, giving the Bruins a 21-19 halftime lead.
No team led by more than four points in the second half. A bucket by Claire Swanson gave Woodson a 37-35 lead with 2:13 left in the fourth quarter, but Lake Braddock tied the score with a pair of free throws by Marcia Altman with less than a minute remaining and took the lead for good with Mandela's three-point play.
"Any time you get a win in the conference it's a big boost," Giannelli said. "I honestly think we stole tonight's game because I think Woodson played better than us. I absolutely think Woodson played better than us and we just stole it. To be successful during the season, you need to steal a couple games. I think that helps."
Sophomore Caroline Jones led Lake Braddock with 12 points. Altman finished with seven, Nirali Shah and Christine McGrath each scored six and Mandela added five.
Gillie Andes led Woodson with eight points. Swanson finished with seven and Tianay Zeigler and Caitlin Patrick each had six.
Lake Braddock will travel to face T.C. Williams at 7:30 p.m. on Thursday, Jan. 30 and will host Robinson at 5:45 p.m. on Saturday, Feb. 1.
Woodson defeated Annandale 34-30 on Tuesday and improved to 4-12.