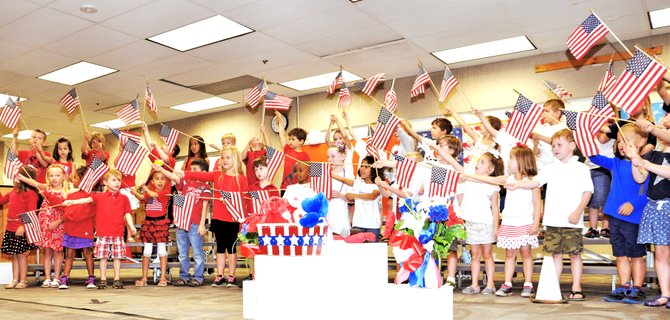 Flags were hoisted in air as students marched to song onto the stage at Union Mill Elementary on Flag Day. The school hosted a grand old celebration of Red, White, and Blue on June 13. Kindergartners waved American flags and dressed in patriotic colors to celebrate the creation of our nation's banner.
Students began the celebrations by pledging allegiance to the flag and then joined in a rhythmic chant of "Red, White, and Blue." Various groups of 5-and 6-year-olds came up to center stage to narrate parts of the program, which included many patriotic songs and poetry. Music teachers Lee Larsen and Ryan Holland designed the program. The program ended with fifth and sixth grade chorus students joining the kindergartners in song.
The program was performed in the morning by a few of the classes and then repeated throughout the day to include all the kindergarteners of the school. As students proclaimed "there are so many amazing places and lands in our beautiful country, our nation is so grand," parents beamed with pride from the audience.