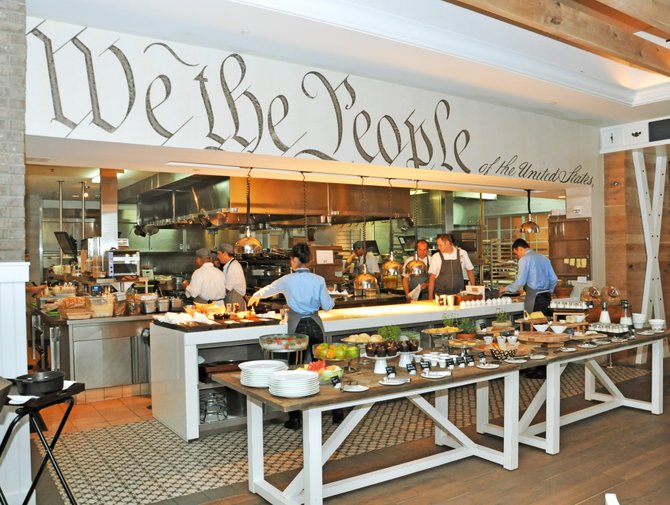 Details
America Eats Tavern is open for breakfast from 6:30 - 11:30 a.m., lunch 11:30 a.m. - 2:30 p.m., and dinner 4:30 - 10 p.m. It is located in the Ritz-Carlton hotel at Tysons Corner, at 1700 Tysons Blvd, McLean. For more information, visit http://www.americ...">http://www.americ... or call 703-744-3999.
America Eats Tavern (AET), the new restaurant helmed by Spanish-born and award-winning celebrity chef José Andrés and business partner Rob Wilder, opened in the Tysons Corner Ritz-Carlton last month. Open for breakfast, lunch, and dinner, AET offers favorite American dishes such as Eggs a la Benedict, a beef rib-eye dish Roseda Farm Delmonico Steak, and Chicken Pot Pie. In addition to the main menu, there is a seafood bar that offers fresh chilled catches from local farms including Littleneck Clams, Poached Shrimp, and King Crab.
"Yes I am a chef but I am also a storyteller and American Eats Tavern is the story of a Spanish chef paying tribute to the country that welcomed me with open arms.."

— José Andrés, Chef and Creator of America Eats
AET was born out of Andrés' fascination with American cuisine. "Yes I am a chef but I am also a storyteller and America Eats Tavern is the story of a Spanish chef paying tribute to the country that welcomed me with open arms. It's about celebrating the traditions of the local farms and producers of Virginia, and Pennsylvania and the rise of the Virginia wine country, which I think is the next big wine-producing region," said Andrés in an email.
In fact, the entire beer and wine menu is all-American. Wines come from the California, Oregon, New York, Michigan, and Washington states in addition to Virginia. According to Daniella Dixon, the beverage manager for the restaurant, "we have a number of Virginia wines and we did extensive research in Virginia. The U.S. has incredibly excellent wines and we wanted to feature Virginia. Our focus is on the best things the U.S. has to offer."
TRUE TO FORM, the patriotic fervor doesn't stop there, but also extends to the cocktail menu as well. The local urban influence can be seen with cocktail names such as Tractor Pull and Green Acres, an interesting concoction that includes vodka, cucumber, fennel, lime, and grapefruit bitters, all-natural ingredients chosen from local farms. Dixon works with over 25 small farms in choosing what goes in the specialty drinks. "We are going for flavor and working with what's in season. We support the local farmers."
The beer section of the menu even begins with the statement "In 1789 George Washington presented a policy referred to as 'Buy American' stating that he would only drink American made beer… who are we to disagree."
If you are familiar with America Eats, you may have seen the temporary version of it in the Washington, D.C. Penn Quarter district. A collaboration with Foundation for the National Archives, AET was conceived after research of American recipes and stories. Named after the Works Progress Administration (WPA) writers project of the 1930s, America Eats celebrates American classic dishes with a modern twist, showcases native ingredients, and works to bring back some long-ago forgotten dishes as well.
It has now found a permanent home at the Tysons Corner Ritz Carlton. New York-based firm Celano Design has created a comfortable and engaging layout that includes a classic 65-seat main dining room with colonial touches, a view of the kitchen, and excerpts of the U.S. Constitution as graphic art along the wall.
AN OPEN, airy 55-seat bar occupies the front space of the restaurant for casual dining and a private dining room that accommodates 18 completes the construct.
"We are excited to have America Eats Tavern open within the hotel," said Raj Khubchandani, General Manager of the Ritz-Carlton, Tysons Corner, in a prepared statement. "The vibrant design and atmosphere is the perfect addition to our lobby complex. Initial feedback from the hotel guests and local community has been very positive."
"As a chef, I learned about the world through food and with America from very early on I became fascinated to learn about the melting pot of this country by collecting old early edition American cookbooks like 'The Virginia Housewife' by Mary Rudolph and 'The Joy of Cooking' by Irma S. Rombauer," explained José Andrés, recently awarded an "Outstanding American by Choice" by President Obama.