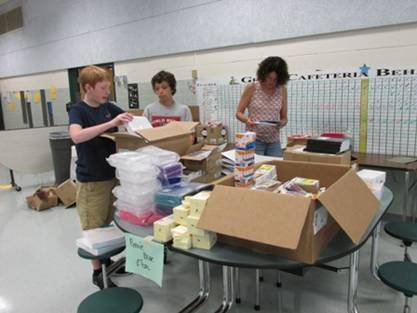 Fairfax-based nonprofit Our Daily Bread (ODB) is seeking volunteers from the community to donate funds, backpacks and calculators to assist needy children who attend schools in the Fairfax County area as part of its Collect for Kids Back to School Program.
For the fourth year, ODB is collaborating with Kids R First, Fairfax County Public Schools (FCPS), the Fairfax County Office of Public-Private Partnerships and a variety of local non-profit organizations to purchase high-quality school supplies at a discounted rate through a partnership with the County's Collect for Kids program. The program will allow ODB to provide all the supplies a student needs for approximately $15 per student (and often $10 or less for elementary students), where it can cost $40 or more per child to purchase all the necessary supplies from retail stores.
ODB's goal is to provide supplies for 2,000 qualified needy children who attend schools in the Fairfax High School and JEB Stuart High School pyramids. In 2013, ODB assisted 1,500 children in those schools. Due to overwhelming demand, the organization is looking to increase the program's capacity this year in hopes of assisting even more students.
Lisa Whetzel, Our Daily Bread's Executive Director, said, "It is incredible to think that 47,000 students in the Fairfax County Public Schools system are eligible to receive free or reduced-price meals. Their parents are struggling to put food on the table, and the prospect of finding funds for school supplies is stressful for them. We hope the community will respond generously to ensure that children whose families are in crisis are able to return to school this fall with all the tools they need to succeed in the new school year."
Community members interested in helping may make a donation through Our Daily Bread's secure website, www.ODBFairfax.org, or mail a check to 4080 Chain Bridge Road, 2nd Floor, Fairfax, VA 22030. Donations of new backpacks and/or gently used scientific calculators are also welcome. They may be brought to ODB's offices through Aug. 12, Mondays through Fridays between 10 a.m. and 2 p.m., or dropped off at participating Sweet Frog stores during the month of July. Backpacks and calculators may also be ordered and shipped directly to ODB through "wish lists" on Amazon.com and DollarDays.com. For more information on donating or sponsoring the program, contact Dawn Sykes at 703-273-8829 or holiday@ODBFairfax.org, or visit www.ODBFairfax.org.
The public may also support the Collect for Kids Back to School Program by placing a catering order with Zoë's Kitchen Fairfax to be delivered July 20 through 26 or by mentioning Our Daily Bread when purchasing frozen yogurt at participating Fairfax County area Sweet Frog stores from July 7-July 10, 3 p.m. to closing. Our Daily Bread will receive a percentage of sales from both offers. Details are available at www.ODBFairfax.org.