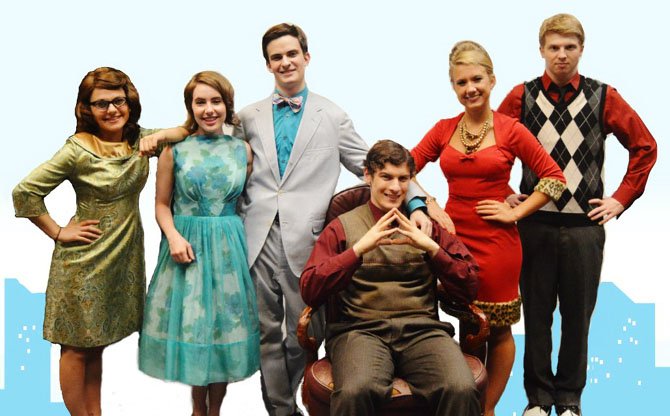 Students from Robinson Secondary and Woodson High play prominent roles in Westfield Summer Stage's upcoming musical, "How to Succeed in Business without Really Trying." Featuring a cast and crew of 85, all performances are at Westfield High, 4700 Stonecroft Boulevard in Chantilly.
The curtain rises Friday-Saturday, July 18-19 and July 25-26, at 7:30 p.m., and Sunday, July 20, at 2 p.m. Tickets are $12 in advance; $15, at the door. Seating is reserved; buy tickets at www.westfieldtheatreboosters.com.
"It's a fun show, good for all ages," said choreographer Yvonne Henry. "Our leads are Cappie-nominated and winning students, which lends itself to a phenomenal song-and-dance show."
"The story follows the meteoric rise of J. Pierrepont Finch, who uses a handbook called 'How To Succeed In Business Without Really Trying' to climb the corporate ladder at World Wide Wickets," explained Director Lori Knickerbocker. "He goes from lowly window washer to high-powered executive, tackling [challenges including] the aggressively compliant company man, the office party, backstabbing co-workers, caffeine addiction and, of course, true love."
REHEARSALS BEGAN before school ended in June and, said Henry, "We've made great progress in a short amount of time. There are nine, big, production numbers, plus some smaller ones." Some even include everyone in the cast dancing on the two-level set depicting an office with a cityscape behind it.
Besides that, said Henry, "The costumes are gorgeous, the story's great and we have wonderful actors. The kids are from all over, and they've formed great friendships because they share the same passions. And after 14 years, Westfield Summer Stage has a great reputation of putting on stellar productions."
Westfield grad TJ Vinsavich plays Finch. "He's ambitious and charismatic and uses a book to trick people to get ahead in the business world," said Vinsavich. "Yet, at the same time, he's very likeable. The audience will like the show's funny characters, plus the satire – poking fun at the business world and its inefficiency – and how everybody is so focused on image that they don't realize how foolish they are."
Portraying Rosemary Pilkington, who wants to marry Finch, is new Robinson Secondary grad Maddy Ingram, majoring in musical theater at Philadelphia's University of the Arts. "She's a secretary who wants to be a typical, 1960s housewife," said Ingram. "She's naïve, but driven, and can be a bit of a ditz; but she's also passionate about settling down and becoming a wife."
Enjoying her role, Ingram said, "She's just so girly, but the show spoofs the 1960s ideal and she's funny, charming, upbeat and energetic. I really like the "Act I Finale" number because it's the first time Finch realizes he's actually in love with Rosemary and it's not just her chasing after him."
Ingram said the show's fast-paced and witty and "has so much going on that it's fun to watch. And the audience will like all the good one-liners."
PLAYING BUD FRUMP, the nephew of company President J.B. Biggley, is new Robinson grad Jamie Green, majoring in musical theater this fall at Marymount Manhattan College in New York. It's a role he knows well, since he understudied it in Robinson's 2012 production of this show.
"Frump's really snide and arrogant and not a good worker," said Green. "He has neither the talent, nor the will, to strive in his job. He only has it because he's the boss's nephew, and he does lots of nefarious plotting and blackmail. It's such a fun role because who doesn't want to be a snide, annoying, little brat? He's never dull, and I have lots of good lines and a song to myself."
Green's favorite number, though, is the "Been a Long Day" reprise which he sings with Centreville High's Joshua Ewalt (Biggley) and Nora Winsler (Biggley's mistress, Hedy La Rue). "It's where I tell Biggley that I know Hedy's his mistress and I can tell his wife," said Green. "It's all tongue-in-cheek, and I love that."
He said the audience will like this show's "cheeky dialogue and attitude – everyone's plotting something against somebody else. And the set's really impressive; it's huge and even has a working elevator. There's a talented cast and I'm really happy to be part of it."
WOODSON HIGH FRESHMAN Mavis Manaloto portrays a secretary in the ensemble. "She follows the rules and tries to do the best she can," said Manaloto. "She also does lots of singing and dancing, especially in the big, production numbers." Manaloto also likes being in this show because "it's enjoyable, you meet new people and you pick up things fast and learn how to be a better actor."
She especially likes the song, "A Secretary's Not a Toy," because "it's fun to watch because of the humor; and eventually, the girls teach the boys to stay in line. The audience will like all the music in this show, as well as the comedy, how Finch overcomes his struggles and the cute Finch-Rosemary storyline."