As the summer wanes, many recent high school graduates are preparing to head to college. For those who are living away from home for the first time, this means newfound independence. But that freedom brings responsibility — especially when it comes to money.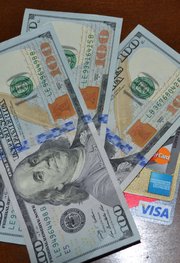 From student loans to credit cards, the financial maze can be filled with debt-traps and money pitfalls. A recent financial literacy assessment of 15-year-old students by the Organisation for Economic Co-operation and Development shows that one in six lacks basic financial literacy skills.
That leaves approximately three years for them to learn about money management before leaving home. And that education is key: financial education is the best way to develop sound money management skills, say financial advisors.
Taking a financial education class is an option. The Northern Virginia Urban League offers a financial literacy workshop series with Fairfax County Human Services and Fairfax County Homeownership & Relocation Services.
"College students can learn everything from understanding a [credit] score and avoiding credit traps to banking and money management," said Vickey King of the Northern Virginia Urban League.
"College is not the time to live the lifestyle of your dreams," said Rachel Powell of the Northern Virginia Council for Economic Education at George Mason University's Center for Economic Education in Fairfax. "College courses, room, board, books are all costly. You can expect to be poor in college, and if you use the many resources your college makes available to you in exchange for all the fees you are required to pay, you can expect to be fed, safe and reasonably comfortable."
THE FIRST STEP in financial literacy for college students is taking a personal money inventory. "Know before you go how much money you'll have available from your income or allowance," said Powell. "Will your folks be making regular contributions to your survival or are you on your own?"
Make a budget that includes all expenditures, including luxuries like frozen yogurt or coffee or movie tickets. Put some money aside for emergencies; even $5 per week will add up over time.
Online tools can help college students organize their finances and track their spending and savings patterns. Alexandria-based financial planner Mark Friese recommends mint.com, which categorizes spending, and bettermoneyhabits.com, which offers videos clips on how to budget better.
"Many people, especially teens and young adults, are surprised when they look at their entire spending picture because they haven't … had to make the money they spend," said Friese. "They just don't know the value of a dollar until they are lining their own wallets with their own money. So the big picture tools that highlight spending and savings habits are helpful."
Know the difference between needs and wants: "Don't buy what you don't need," said Powell. "Cold medicine — yes. The latest movie on DVD — no."
Open a checking and savings account at a bank located close to campus, one that offers products and services for students, advises Powell. "Don't accept accounts that require minimum balances or charge fees," she said. "Shop around for the right bank."
Find a way to establish or build savings, especially if you plan to work during college. "Pay yourself first," said Friese. "When you have a job, take a set portion of it and save it for your future self. If the job offers a retirement plan such as a 401(k), take advantage of it. A 401(k) provides the significant benefit of saving before taxes are taken out."
AVOID USING CREDIT CARDS for immediate gratification and focus on building a high credit score for the future, said Friese. "That score, that number, will be more important and reap greater rewards than any grade or SAT score ever was or could be," he said. "If you build and maintain a good credit score, you will be rewarded time and time again with preferred lending rates."
When it comes to financial aid, take time to do research, and don't underestimate the availability of college scholarships. Friese points to a study from scholarship.com, which shows that billions of dollars in scholarship funds go unawarded every year.
"Take advantage of the opportunities out there," he said. "Don't assume that scholarships are only for top scholars or athletes because many scholarships start with GPA requirements of 2.5 or less. Start looking as early as sophomore or junior year and apply as soon as you qualify."
"Saving as much as possible from summer jobs … can help with at least some of the expenses," said Powell. "Loans are available for all the expenses you cannot pay for through gifts, grants and scholarships. Be aware that money borrowed must be repaid and the interest [accrued] is the cost of the rental of those funds."
In fact, the Department of Education reports that 10 percent of U.S. college graduates default on student loans so only borrow money as a last resort.
Investigate federal loans first. "Loans such as the Stafford loan can be far more cost effective than higher-priced private loans," said Friese.
College students should also estimate how much they will be able to afford to repay after graduation, said Powell. "Make sure that your target labor market is willing to compensate you with income commensurate with the cost of your education."