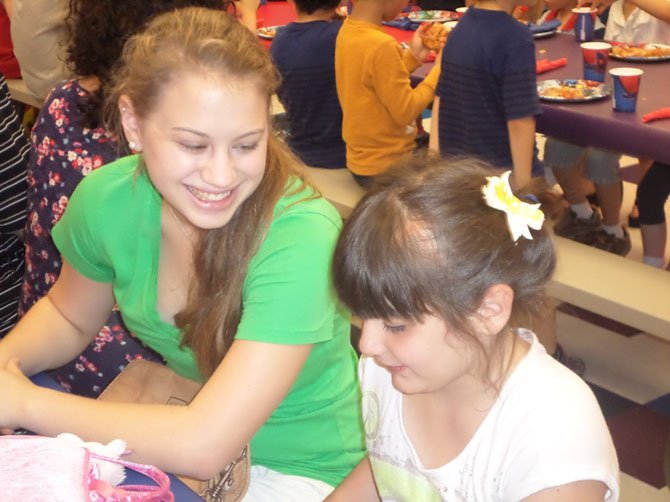 One of the highlights of 8-year-old Sophie Gottfried's week is spending time with her 17-year-old friend Allie Wiener. Despite their age difference, the two girls have an extraordinary bond.
"For Sophie, it has been life altering," said her mother, Cindy Gottfried. "She has multiple disabilities, physical and communication disorders. She has friends at school, but she can't meet up at the park for a play date. She doesn't get invited to birthday parties or have the social opportunities that most kids take for granted."
Sophie and Allie, who lives in Potomac, are part of Friendship Circle, an international Jewish organization that pairs teen volunteers with special needs children. The program is designed to encourage friendships with children who often experience isolation and loneliness because of physical and developmental disabilities. At the same time, the teen volunteers get a first-hand look at community service.
Rabbi Mendel Kaplan and his wife, Chana, of Potomac, founded Friendship Circle Maryland in 2007 as a way of giving back. "We both grew up in the Chabad [-Lubavitch] movement and it is very much about reaching out to other Jews, taking responsibility for others and being inclusive of others," said Mendel Kaplan.
"It has been an amazing journey," said Chana Kaplan. "We've met incredible people. I've been touched by how the teens have shared with us how this has changed their lives."
Ally Greenzaid, 16, a junior at Winston Churchill High School in Potomac, has been a Friendship Circle volunteer for three years. The experience has helped her overcome her misconceptions about those with special needs. "I've always been scared of people with disabilities, so I was tentative about volunteering," said Ally. "But that changed when I saw the way that the kids look at life. It is different than how we look at life. The kids are so happy and always positive and always happy to be someplace."
Not only are the children given opportunities to develop meaningful friendships and escape the loneliness and isolation that often come with having special needs, the teen volunteers learn about the power of benevolence and the importance of friendship in everyone's lives.
"It's impossible to measure who it benefits more, the kids with special needs or the teen volunteers," said Chana Kaplan.
Chana Kaplan recruits volunteers through local Jewish day schools and youth groups, Jewish Community Centers (JCC) and elsewhere. Every volunteer undergoes an interview process and is required to provide references. "We try to do the best we can to vet the teens because if the teen commits to volunteering once a week with a child and doesn't show up, the special needs child is very disappointed. But because we're in a community, people know each other."
She also makes sure the teens and children are compatible. "A lot goes into creating the match," said Chana Kaplan. "We consider the personalities. The match has to work geographically. Do they live close to each other? Sometimes there is a waiting list, but we've had a 99.9 percent success rate. You create one match and it can last up to four years."
The Kaplans say that Friendship Circle continues to grow and touch lives throughout the area. "The concept and need have been proven," said Mendel Kaplan. "We're at the point of having the right people involved and good talent on board that will take us to next level.
"We started with one or two families and a handful of volunteers," he continued. "Today we have 230 volunteers and more than 100 children, teens and young adults."
In addition to the weekly home visits, Friendship Circle offers other programs such as monthly group birthday parties for children; the Torah Circle, where the children and their teen friends spend time together learning about Jewish traditions through lively activities like music and fitness, and Friendship Shabbat where the families of both the volunteers and the special needs children spend time together during Shabbat dinners.
For Gottfried, who also has a 5-year-old son, seeing her daughter smile and play is priceless. "Even though Sophie doesn't have a typical life, she is observant and she sees that her brother gets to have play dates," she said. "When Allie comes, Sophie knows that Allie is there just to play with her. Allie is definitely part of our family. It's a really positive connection."