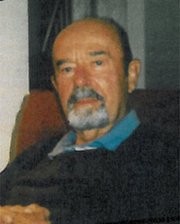 Alexandria native James Milton Higgins died on July 7, 2014, after a hale and hearty 90 years of life. He leaves to mourn his wife of 24 years, Cobina Christley Higgins of Alexandria, and his son, Jeffrey Kent Higgins of Pensacola, Fla.He also leaves his brother, Richard Higgins, with wife Lucy, of Callao, Va., and his niece Bonnie Higgins Bailey of Alexandria. Jim is beloved by many more — his step-daughters Gwen (John) Rinehart, JP and Hillary, of Fort Lauderdale, Fla. and Luanne
(Dean) Johnson, Perry and Wren, of Marietta, Ga., and other nieces and nephews. Jim is also sorely missed by his dear New England in-laws, and many long-time friends at Belle Haven Country Club. He was preceded in death by his sister Evelyn Nuckols, and brother Robert Higgins.
Jimmie excelled at track, baseball and basketball at George Washington High School in Alexandria, graduating in 1941. He spent four years in the Army Air Corps, and came home to complete a master's degree at Benjamin Franklin School of Accountancy. Throughout his life he enjoyed many sports activities. He found he even enjoyed bowling, tennis and golf. He was privileged to become a referee for local local prep and college basketball games. Baseball was probably his forte, resulting in his induction into the Greater Washington Fastpitch Softball Hall of Fame. Jimmie credited The Boy's Club with nurturing his interest and abilities, and eventually he coached some youth sports there.
Jimmie's wish is that in lieu of flowers, donations be made to the Alexandria Boys' and Girls' Clubs. The family plans a Celebration of his
Life later this fall.