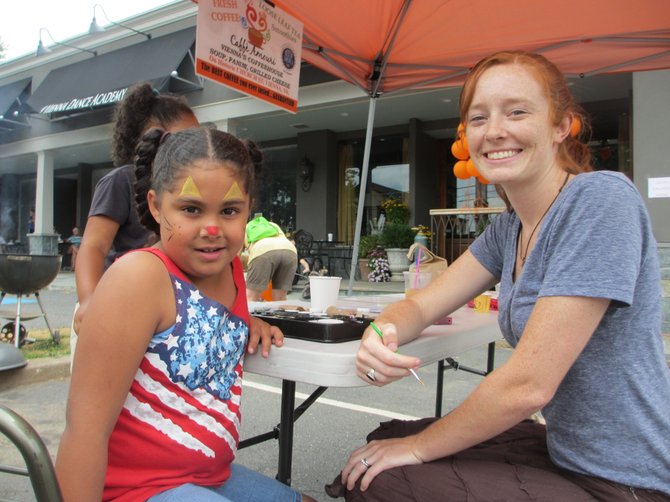 It says a lot about a business when the community shares its birthday celebration and it says a lot about a service nonprofit when the community it has helped comes to "give back." Business and nonprofit interwove on Saturday, July 19, when Caffi Amouri celebrated its fourth anniversary in business with a benefit on behalf of the Lamb Center, a faith-backed charity that serves the poor and the poor-in-spirit locally.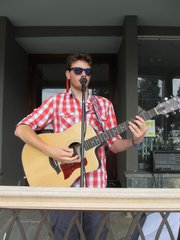 "This is what we're all about," said Caffe Amouri owner Michael Amouri, as he grilled hot dogs. "The community supports us and we're thanking the community for its support by giving back to it."
The "bash," held in front of Caffe Amouri, served free hotdogs to those who brought little donations for the Lamb Center, and provided live music, face painting, and games for children throughout the day. Local Caffe Amouri friends showed up, as did friends of the Lamb Center, housed at Fairfax Circle. Matthew Dobras identified himself as one of the people the Lamb Center helped through bad times, motivating him to get back on his feet.
"So many homeless are mentally-ill," said Dobras, who said he was a homeless 27-year-old in 1998, riddled by drugs and mental illness. The Lamb Center got Dobras the mental health treatment he needed, and, with the assistance of prescribed medications, Dobras started to get "better and better." Now, he works and has family again.
Caffe Amouri has been voted the #1 coffeehouse in Northern Virginia since 2012 by readers of Northern Virginia magazines. Amouri spearheaded the Vienna Business Association's first annual First Night Vienna celebration in 2013.