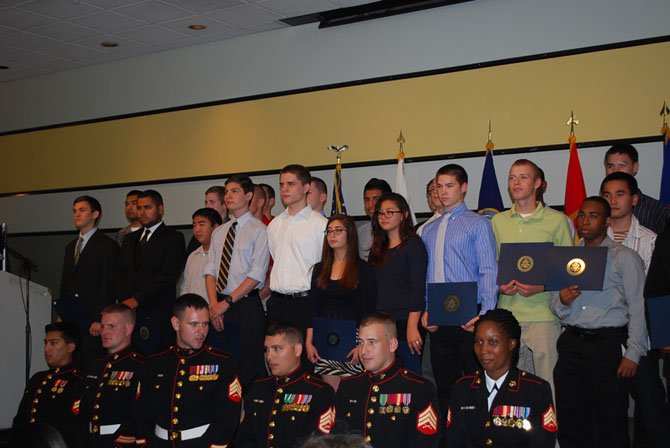 As high school nears its end for the many seniors of Fairfax, Loudon and Prince William counties, students are faced with countless options of what will be their next step in life.
For a small group of seniors, this step means one thing — enlisting in the military.
In the fourth annual Enlistee Recognition Ceremony, the Northern Virginia chapter of Our Community Salutes, along with over 200 community members, gathered at George Mason University Thursday, May 29 to thank and support about 50 seniors who have chosen to enlist in the military after graduation.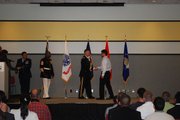 "No matter what branch of service you've chosen, what you've done is an honorable thing and something you should be proud of," said Marine Corps Sergeant Major Mark Byrd, a guest speaker. "Not many take on this challenge," he said, adding that only half a percent of Americans enlist to serve their country.
"You are a special group of people," Byrd said, "and you will be the heroes that your siblings and family members will try to emulate."
"We are proud to have such fine men and women defending our country," said Sharon Bulova, chairman of the Fairfax County Board of Supervisors, commending the enlistees for sacrificing their personal needs and desires for their country. "You all are an inspiration," she said.
Aaron Gilchrist, an NBC4 news anchor and master of ceremonies, then read the names of the enlistees as they walked across the stage to be individually recognized.
OUR COMMUNITY SALUTES, a national organization, was brought to Northern Virginia when Christine Zinser of Fairfax decided that high school seniors who decide to enlist were not getting their well-deserved thanks, she said. In 2011, her son Philipp enlisted in the Marine Corps, and Zinser organized the first of the Enlistee Recognition Ceremonies.
"It's the right thing to do," she said, so Zinser continues to organize the ceremonies. "They're doing a big thing, and it deserves big recognition," she said.
Every year the ceremony gets bigger, Zinser said, adding that eventually she would like to see the ceremony be held at a Nationals baseball game.
"The parents are bursting with pride, and so am I," she said.
During the ceremony, Sharon Stark, district director for the office of Rep. Gerry Connolly (D-11), stood to recognize Zinser. On behalf of Connolly, she read a Congressional Record Statement that commends Zinser for her efforts in creating the Northern Virginia chapter of Our Community Salutes, as well as making sure that enlistees of Northern Virginia receive proper recognition from their community.