Campaign finance documents released in the final days before the June 10 primary show the seven candidates in the primary to replace longtime U.S. Rep. Jim Moran (D-8) have raised almost $2.5 million. Former Lt. Gov. Don Beyer leads the pack with $1.1 million, three times as much as his closest competitor.
"Don Beyer is clearly the favorite," said Geoff Skelley, analyst with the University of Virginia Center for Politics. "He may not win it with a particularly large plurality, but he's the favorite to win."
Skelley said the dynamics of the campaign changed when Del. Charniele Herring (D-46) dropped out of the race and endorsed Beyer, which he said was a turning point in the campaign. Along with the name recognition he has as a result of owning several car dealerships in Northern Virginia, Beyer has more than $350,000 cash on hand heading into the final days of the primary. As candidates prepare for the final push toward primary Election Day, June 10, that money may give Beyer an edge.
"The real question is does Beyer perform below his dollar totals and does somebody like Adam Ebbin punch way above his weight," said Quentin Kidd, professor at Christopher Newport University. "What this is really going to come down to is whether Beyer outdistances everyone else so much that even if he punches below his weight he still wins."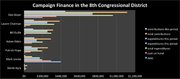 CANDIDATES HAVE NOT been shy about throwing money at their own campaigns. The largest amount of self-financing comes from radio personality Mark Levine, who loaned his campaign a total $400,000. Although Levine raised only $88,000, he theoretically has $293,000 cash on hand. But he would only need to raise the money if he spends it. Former Navy pilot Bruce Shuttleworth, who dropped out of the race, loaned his campaign $330,000. He raised about $57,000 and spent about $80,000, which means most of the loan can be written off.
"Oftentimes when candidates loan money to the campaigns and they lose, they forgive the loans to their own campaigns," said Stephen Farnsworth, professor at the University of Mary Washington. "If candidates feel it necessary to loan money to their own campaigns, it isn't a big difference from a gift. They are probably not going to be able to generate the kind of enthusiasms necessary to pay themselves back."
Several other candidates also loaned money to their campaigns. Beyer loaned his campaign $200,000. Former Urban League of Northern Virginia president Lavern Chatman loaned her campaign $20,000. And Del. Patrick Hope (D-47) loaned his campaign $10,000. Whichever candidate is successful in the primary will be able to continue raising money heading into the November general election. The six candidates who are unsuccessful, though, will have a much harder time raising money for a lost cause.
"The short term strategy seems to be to loan yourself money to demonstrate your own commitment to your own campaign and that you at least have the ability to put some of your own money into the campaign," said Kidd. "But unless you can follow that up with other big fundraising, I just don't know that it gets you very far."