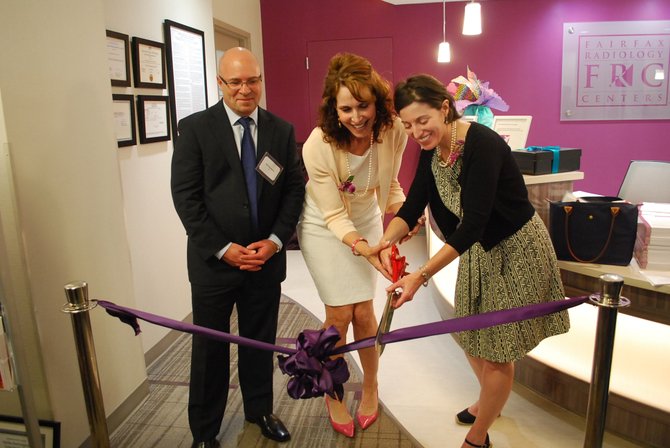 Upon learning she had stage three metastatic breast cancer, Nancy Cappello was shocked, she said.
And as a woman who had never missed her annual mammogram in 11 years, she was even more shocked, the guest speaker and executive director and founder of Are You Dense, Inc., a public charity dedicated to informing the public about dense breast and early detection of breast cancer, told about 75 local physicians and healthcare professionals at the open house of the newly renovated Breast Diagnostic Imaging Center at Fairfax Radiological Consultants Tuesday, June 3.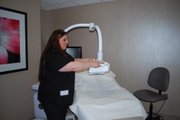 But after researching and talking to her doctors, Cappello learned that like 40 percent of American women, she had dense breast tissue. While Cappello's cancerous cells had been in her body, the mammograms were not creating pictures her doctors could use to properly detect the cells due to the density of her breast tissue, she said.
As of Tuesday, June 3, Fairfax Radiological Consultants is one of the first two medical establishments in the country to have the technology to see cancerous cells much more easily in women who have dense breast tissue, as opposed to fatty tissue, said Elise Berman, medical director of breast imaging at Fairfax Radiological Consultants.
The Invenia Automated Breast Ultrasound System by GE Healthcare, or ABUS, in conjunction with mammography "can improve cancer detection by more than 30 percent in women who have dense breasts," Berman said.
In a mammogram, dense breast tissue is white, said Marana Coluccio, a sonographer at Fairfax Radiological Consultants. Cancerous tumors are white as well, making it difficult for doctors to see them, she said. "It's like looking for a white marble on a white carpet."
The ABUS has "one big probe that takes a film of the entire breast tissue," Coluccio said. Traditionally, smaller handheld ultrasound probes were used to target one area, making it easy to miss small tumors, she said.
With the ABUS, cancers are black and dense breast tissue is white, so detection much easier, said Tabatha Fair, a representative of GE Healthcare.
"The cancers that we are able to find with automated breast ultrasound are those cancers that are clinically significant, meaning they are the invasive cancers that tend to be less than a centimeter in size," Berman said. "Those are the cancers that we want to find, and we want to find them early. That's why it's really exciting to have this technology here," she said.