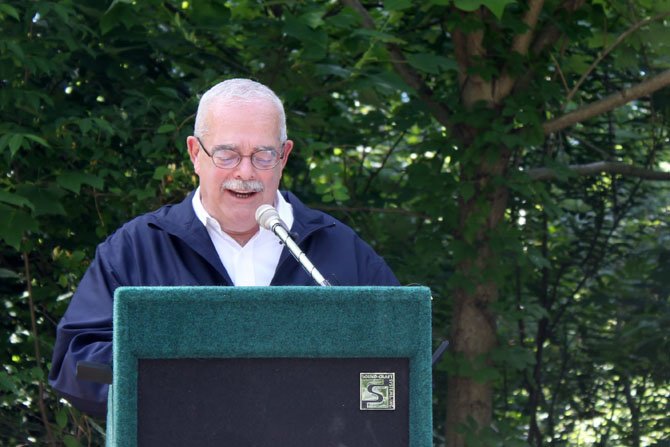 On National Trails Day on June 7, the Cross County Trail, which goes through each district in Fairfax County, was renamed to the "Gerry Connolly Cross County Trail" in honor of Rep. Connolly's work to build the trail.
In June 1999, Connolly, who represented the Providence district on the Fairfax County Board of Supervisors, motioned to create a cross-county trail. Now, over a decade later, Connolly was honored during a ceremony at Laurel Hill Park in Lorton, part of the 40-mile trail that goes from Great Falls to the Occoquan River.
"Well first of all, thank you for not waiting until I was dead," Connolly said at the ceremony. "I know it's a great honor after you've passed, but I'm not sure I would have appreciated it. But thank you so much for doing this."
When Rep. Connolly was chairman of the Fairfax County Board of Supervisors, he was a key figure in the development of the Cross County Trail. He worked with others to link together the existing trail system from Great Falls to Occoquan.
"He has been involved in countless projects and initiatives, but this one, this project, is indicative of his personal strengths, his ability to listen to his constituents," said Sharon Bulova, chairman of the Fairfax County Board of Supervisors.
Connolly, calling the trail one of his "proudest accomplishments in public office," thanked the Fairfax County Park Authority Staff and other volunteers and figures in the county who helped to make the trail a reality.
"This trail is a way to ride bikes, to hike with their friends, or even to ride horses. But it's also about connectivity-from one end of this community to the other," Bulova said.
Bulova pointed out that the trail is part of the East Coast Greenway, which stretches from Maine to Key West.
"This trail network will allow someone to hike from here, all the way down to Key West. Is that a romantic thought or what?" she said.
Flying above Fairfax County shows how much green there is in the county, said Mount Vernon District Supervisor Gerry Hyland.
"To be able to say that we have 10 percent of our land in parks is a truly remarkable accomplishment," Hyland said.
Volunteers who helped implement the Cross County Trail were also honored.
"Trails do not just magically appear for our enjoyment. Their construction and maintenance takes hours of dedicated planning and labor. That is especially true in Fairfax County, where volunteers are the backbone of our trail maintenance and construction," Bulova said.
Pedestrians, bikers and horseback riders can travel all the way from Great Falls Park down to the Occoquan River.
"You can go out on the Cross County Trail and feel like you're in the middle of nowhere. It's a unique experience," said Bill Niedringhaus, president of the Potomac Heritage Trail Association.
Connolly said that the beauty of the Cross County Trail is that most of it is in a stream valley.
It is hard to believe you're in a big urban county with over a million people," Connolly said.