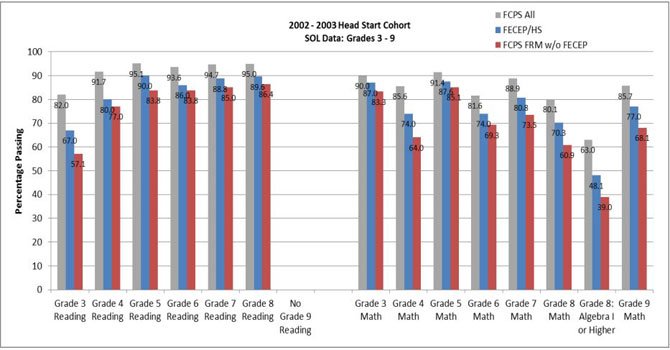 The Fairfax County Office for Children now has a waitlist of over 1,395 children. Of that number, 918 are on the waitlist for Head Start and Early Head Start programs in Fairfax County Public Schools, according to a new report presented at a school board work session on May 29.
Shaina Mask, chair of the Family and Early Childhood Education Program/Head Start/Early Head Start program, presented the report.
According to Mask, longitudinal studies have been conducted that show Head Start programs are beneficial for low-income children.
"The Standard of Learning assessment data shows that a larger percentage of these former students consistently meet or exceed their grade level reading and math expectations when compared to the students who qualify for free or reduced lunches but have not attended any head start or early head start programs," Mask, a parent of a student in the head start program, said at the work session.
The program added eight additional classes this year, but still faces a waiting list.
"When we talk about the Capital Improvement Program, we don't even talk about the head start programs. We don't even mention early education," said Pat Hynes, School Board member from the Hunter Mill district. "I think we should add that to our conversation."
Children who go through the program, however, have better SOL scores than those low-income children who did not attend the program.
"I strongly believe that this is a direct reflection of head start and early head start programs ongoing commitment to parent engagement and community involvement and the constant search for new and innovative ways to engage and support families in their child's learning and development," Mask said.
School Board member Dan Storck, a former head start program administrator, said the program makes a difference and that he is proud of the program.
"If we had a way to find some additional money, we know that we would be putting it there because we greatly value what it does for our kids and how it helps level the playing field, and we know we have serious issues with the playing field not being leveled when children get to Kindergarten," Storck said.
Despite adding classrooms, the program still continues to have a wait list.
"I wish we had unlimited amount of funds to eliminate waiting lists on any program," said Ilryong Moon, chairman of the school board.