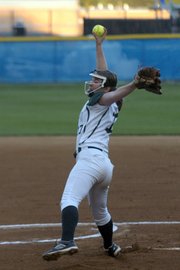 South County softball coach Gary Dillow stood near the third-base dugout at Robinson Secondary School and explained how the 2014 Stallions became the first team in program history to reach the state championship game.
"They constantly battle," Dillow said. "[Senior pitcher] Rebecca [Martin] keeps us in every game and gives us a chance until we push a run across."
Martin did her part against First Colonial on Saturday night in the 6A state semifinals, hurling a complete-game shutout. It took 11 innings, but third baseman Caitlin Maglich finally took care of pushing across that run.
Maglich delivered an RBI double in the bottom of the 11th, propelling South County to a 1-0 victory and a trip to the state final. The Stallions will face Cosby at 5 p.m. today at Robinson.
Back-to-back singles by Martin and second baseman Cara Yates in the bottom of the 11th put the winning run in scoring position for South County with no outs. Two batters later, Maglich drove a pitch into right-center field, sending the Stallions to their first state final.
"It's surreal," Maglich said. "We didn't even think we'd make it this far. ... This is just icing on the cake."
South County improved its record to 25-3. The Stallions played in three extra-inning contests against fellow state-tournament participant Lake Braddock this season, something Martin said helped the team on Saturday. South County beat Lake Braddock 1-0 in 13 innings on April 24. The Stallions lost to the Bruins 1-0 in nine innings in the Conference 7 championship game on May 23, and defeated Lake Braddock 2-1 in eight innings in the 6A North region championship game on June 6.
"I think those games help the whole team stay focused," Martin said, "because we have the intensity really high throughout the entire game, no matter if we've kept popping out or no matter what happens."
South County won six consecutive Patriot District championships from 2007-12, and won region titles in 2009 and 2014. Now, the Stallions will attempt to win their first state championship. Standing in the way is a Cosby team that defeated Lake Braddock 2-1 in Saturday's other semifinal. Pitcher Chelsea Whitcomb is one of the Titans' top players.